Daimler Truck Gains in Debut After Historic Split From Mercedes
(Bloomberg) -- Daimler AG's trucks division gained in its first trading day as the storied German manufacturer completed a historic spinoff to better face sweeping changes in the auto industry.
Daimler Truck Holding AG rose as much as 7% after opening at 28 euros, valuing the company at around 24 billion euros ($27 billion). While that's below Bloomberg Intelligence's range of as much as 31 billion euros, the company is still in contention to join Germany's benchmark DAX index, being worth more than current members Deutsche Bank AG and utility RWE AG.
The truckmaker and Daimler's Mercedes-Benz cars unit expect their split to enable the two to move more quickly toward an electrified and autonomous future. Their breakup ends more than a century of the businesses running under one roof, with Daimler retaining only a minority stake in its former commercial-vehicle division.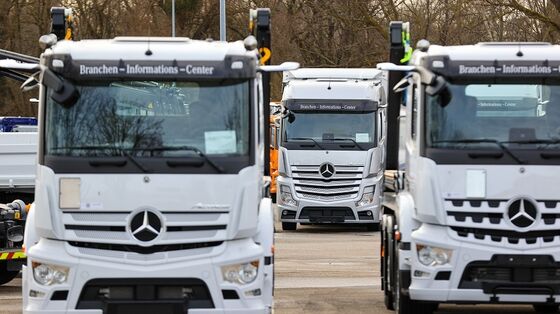 "We have a lot of upward potential," Daimler Truck Chief Executive Officer Martin Daum told Bloomberg Television in an interview. "Luxurious passenger cars and trucks have very little in common -- both in technology, in customer base, in the way you market those products."
Investors expect that one of Germany's largest spinoffs in recent years will lead to more transparency and accelerate Daimler Truck's restructuring in Europe, where high costs are squeezing returns. 
While the trading debut created around 10 billion euros in value, Jefferies analysts led by Himanshu Agarwal estimate the company's equity could be valued at as much as 44 billion euros based on its profit targets and similarity to rival Volvo AB.
The truck spinoff is the most significant strategic step for Daimler since selling Chrysler in 2007 and a key element of Chief Executive Officer Ola Kallenius's push to transform the storied manufacturer into a nimbler company. Daimler's earnings and stock price started to languish late in the 13-year reign of his predecessor Dieter Zetsche, forcing Kallenius into making bold changes as fundamental shifts sweep the industry.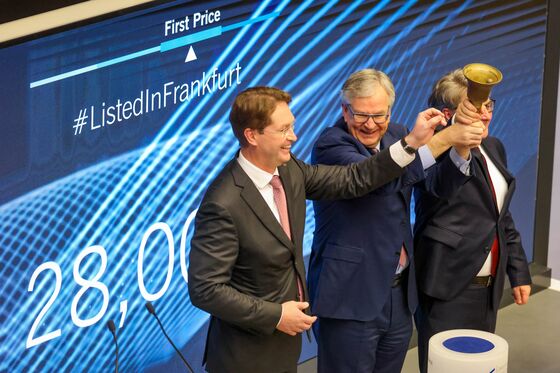 While Mercedes's push toward battery cars is in full swing, technologies like hydrogen fuel cells are set to play a bigger role for trucks and the logistics sector. Daimler has said that both units remain open for cooperation.
Daimler's German rival Traton recently replaced its two top executives, the second such shakeup at the business since its underwhelming initial public offering in 2019. The stock has failed to take off in part because of a small free float, with parent Volkswagen AG still holding about 90% of shares.
Daimler will retain a 35% stake in its truck firm and hopes for the business to enter the DAX in the first quarter of next year.