Cuomo Remains Defiant on Sexual- Harassment Claims in Farewell Address
Cuomo Remains Defiant on Sex Harassment Accusations in Farewell
(Bloomberg) -- New York Governor Andrew Cuomo, driven from office following a damning report that found he sexually harassed 11 women, gave a defiant farewell Monday to the state he governed for a decade. 
"The truth will out in time, on that I am confident," Cuomo said in a recorded video message. Cuomo said the attorney general's report was driven by politics, and his instinct was to fight back against its allegations.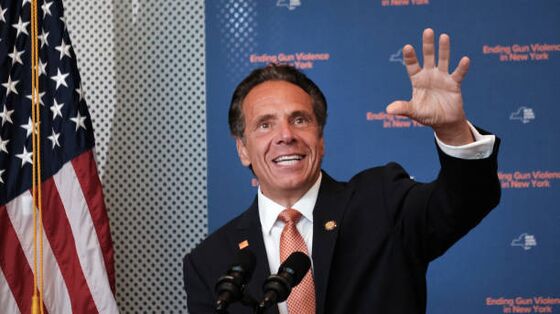 He recited some of what he described as the accomplishments of his more than two terms in office, including the passage of marriage equality, gun-control legislation, anti-hate crime laws and infrastructure improvements to LaGuardia and John F. Kennedy International Airports as well as Manhattan's Pennsylvania Station. 
After listing those, he said people should be judged on what they accomplish over anything else.
Cuomo, who announced his resignation two weeks ago, made it effective Monday. Lieutenant Governor Kathy Hochul is scheduled to be sworn in at midnight, becoming the state's first female governor, and Cuomo said he believed "she will be up to the challenge."  
"We didn't get everything done that we wanted to, or even everything that we should have done, and we didn't always get it quite right," Cuomo said, adding that he worked as hard as he could each day.
Cuomo had been under increasing pressure to resign following New York Attorney General Letitia James's release of a report Aug. 3 that documented claims of sexual harassment. Cuomo held out for a week, but reversed course after President Joe Biden, the entire New York Democratic delegation to U.S. Congress and a majority of the Assembly called on him to resign. 
Cuomo still faces federal, state and local investigations of potential wrongdoing.
James and the state Assembly Judiciary Committee had been investigating the harassment for months. The Assembly also was looking at claims that Cuomo's administration covered up Covid nursing-home deaths, provided relatives with virus testing before it was widely available, mishandled construction of the Mario Cuomo Bridge across the Hudson River and misused public resources to write "American Crisis: Leadership Lessons from the COVID-19 Pandemic." 
Cuomo filed for retirement benefits last week, leaving him eligible to receive at least $50,000 a year from the state, according to the Empire Center, an Albany watchdog group. The payment could be revoked if he is convicted of a felony, the group said.