Covid Hospital Admissions Show Omicron Spreading to West Coast
(Bloomberg) -- The Covid-19 burden on U.S. health-care facilities is spreading from the Northeast to parts of the West Coast, as well as rural states across the country.
The seven-day average of hospital admissions with confirmed Covid-19 is up 76% in Alaska, 59% in Idaho and 53% in Arkansas in the past week, according to Department of Health and Human Services data. Oregon and California round out the worst five states by momentum, with admissions up 52% and 51%, respectively.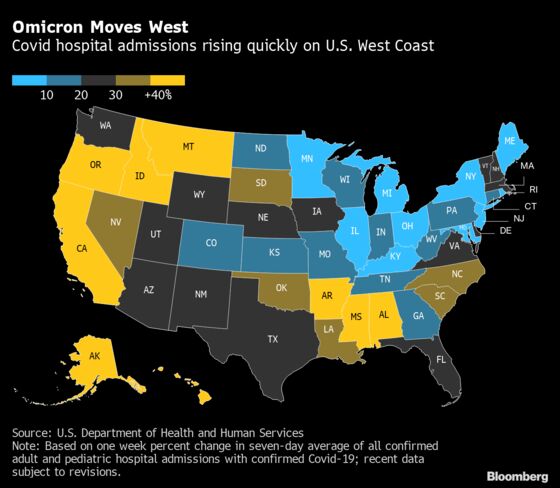 The omicron surge in the U.S. has produced record levels of cases, and experts agree that the official figures are an undercount -- with home test kits, asymptomatic infections and test-site bottlenecks all working to artificially drive down the reported numbers. Although the ratio of severe outcomes to cases is lower, the sheer number of infections is so high that hospitalizations and intensive-care unit admissions have shot up as well.
Some parts of the Northeast are flashing signs that the wave itself may have crested, echoing the experience of South Africa, where the surge was intense but ultimately short-lived. Hints of that have started to show in the moderating uptick in new hospital arrivals. Yet intensive-care unit bed utilization and ultimately deaths significantly lag infections, which means even the Northeast probably still faces grueling weeks ahead. 
In New York and New Jersey, the seven-day average in admissions was up 7% and 5% in the period, respectively, following bigger increases the week before. President Joe Biden said Thursday he is deploying military doctors, nurses and others to six hospitals in six states, including New York and New Jersey, to ease pressures on medical staff.
The intensity of the viral peaks can be particularly challenging in rural parts of the country, where hospital staffing is more limited and facilities are farther apart.