Comcast Drops Out of Bidding War for Fox to Focus on Sky
Disney can now go ahead with its offer of $71.3 billion for Fox's entertainment properties.
(Bloomberg) -- Comcast Corp. will no longer seek to compete with Walt Disney Co.'s for a swath of 21st Century Fox Inc.'s entertainment assets, choosing to focus instead on winning control of the British pay-TV service Sky Plc.
Following a bidding war with Disney, Comcast concluded that the price for the Fox assets was too high, according to a person familiar with the matter who asked not to be identified because the decision process was private. Another hurdle was the regulatory requirement to divest Fox's regional sports networks as part of any deal, the person said.
Disney can now go ahead with its offer of $71.3 billion for Fox's properties, which include a 39 percent stake in Sky. Comcast has offered about $34 billion for the U.K. pay-TV provider, including Fox's stake, though it's unclear if Disney will be willing to part with it.
While Comcast is dropping its pursuit of much of Rupert Murdoch's empire, it did force Disney to pay a higher price for the Fox assets, which also include a movie studio and cable networks FX and National Geographic. Comcast had made a $65 billion offer, forcing Disney to sweeten its $52.4 billion deal.
Comcast shares jumped 3 percent to $35.05 at 11:26 a.m. in New York, a sign investors are relieved the bidding contest over Fox is over. Disney gained 3 percent, and Fox dropped 1.5 percent. In the U.K., Sky fell 1.4 percent.
"Assuming Disney cedes Sky to Comcast, it looks like both Disney and Comcast will get most, but not all, of what they need to compete gong forward," said Paul Sweeney, an analyst at Bloomberg Intelligence.
Comcast will now turn its full attention on Sky, a key asset to help the Philadelphia-based cable provider expand overseas. While the Fox studios and TV networks would have been complementary assets to Comcast's own Universal studios and NBC TV assets, Sky would instantly give Comcast something it currently lacks: a global presence.
Like Disney, Comcast would have had to take on an intimidating debt load to finance the deal. After Disney's latest bid, Moody's threatened to cut its credit rating.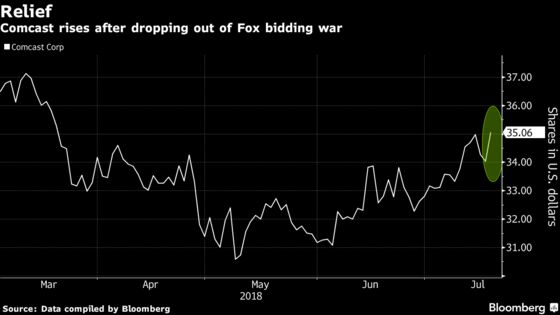 Now, the battleground shifts to Europe. On Friday, Comcast filed its offer documents for Sky, whose shareholders have until Aug. 22 to complete the document and tender their shares to Comcast. Once Comcast gets to 50 percent plus one share of Sky, it will own a majority of the European pay-TV provider. Now, the question is whether Fox or Disney -- which would acquire Fox's 39 percent stake in Sky -- will top Comcast's offer.
In a statement about the Fox assets, Disney Chief Executive Officer Bob Iger said his company's focus is now on "completing the regulatory process and ultimately moving toward integrating our business." The statement didn't mention Sky.
--With assistance from Joe Mayes.
To contact the reporters on this story: Gerry Smith in New York at gsmith233@bloomberg.net;Anousha Sakoui in Los Angeles at asakoui@bloomberg.net
To contact the editors responsible for this story: Nick Turner at nturner7@bloomberg.net, Cecile Daurat