Colombia Traders Bet They Found Billionaire's Next Buyout Target
(Bloomberg) -- Jaime Gilinski shook up Colombia's capital markets with $3.4 billion of bids for the country's largest foodmaker and one of its biggest financial firms. Now, investors trying to suss out the billionaire's next target think they've found the answer: a conglomerate with holdings in cement, energy and infrastructure. 
Grupo Argos shares have surged almost 25% after Gilinski made the first of his buyout offers in mid-November, a $2.2 billion bid for food producer Grupo Nutresa at a 38% premium to where the stock was trading. Since then, he's moved on the financial holding company Grupo Sura with a bid worth as much as $1.2 billion, 27% above what had been the going price.
Investors think a buyout offer for Argos would be the next logical step for Gilinski, whose net worth of an estimated $4.3 billion makes him one of Colombia's richest men. And indeed, Gilinski and his son, Gabriel, are prepared to make an offer for a stake in Argos that could be worth as much as $2 billion, according to a person with knowledge of their strategy. Such an offer is dependent on ongoing negotiations and Argos's response to the bids for Sura and Nutresa, the person said. 
Nutresa, Sura and Argos are part of an influential association of businesses based in Medellin called Grupo Empresarial Antioqueno, or GEA. The members hold stakes in each others' companies, an arrangement they developed decades ago expressly to prevent takeover attempts from outsiders. It seems Gilinski is trying to crack that line of defense.
"Who's next in line? All eyes point to Grupo Argos," BTG Pactual analyst Daniel Guardiola wrote in a note. "The cross-holding structure of the three groups creates a complex network of interrelated interests."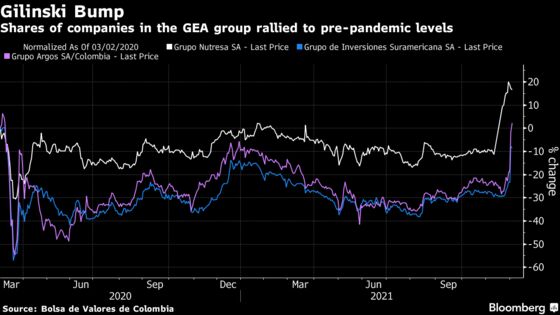 A Gilinski representative didn't respond to messages seeking comment. A spokesman for Argos -- which controls the second-biggest cement maker in the U.S., and also operates power producers, airports and highways in Latin America -- declined to comment on the possibility of a Gilinski offer. 
If successful in his bids, Gilinski, a 63-year-old Harvard Business School grad with banking interests in Latin America and Europe, would effectively break up the GEA. Combined, Nutresa, Sura, Argos and their affiliates account for about half of Colombia's benchmark Colcap stock index. 
"This transaction puts at risk the control structure of one of the most significant groups in the country," said Luis Ramos, an equities analyst at LarrainVial. "These operations fuel questions about the shareholding structures of these companies and their ability to generate value for minority shareholders."
Gilinski's potential offer for a stake in Argos may be contingent on the decisions shareholders make at a meeting Friday, specifically whether there are signs that investors will seek to raise funds to make a counter offer for Nutresa or Sura. 
A tender offer from Gilinski would effectively lock up Argos and prevent officials from making any changes to its equity structure, the person said. Gilinski would partner with Abu Dhabi's Royal Group in a potential Argos bid, according to the person, who asked not to be identified as the negotiations are private. Royal Group is also providing backing for his offer for Nutresa.
"The offer that Gilinski launched for Grupo Sura leaves GEA with very few possibilities to defend itself," said Luis Carlos Bravo, a professor of finance at Colombian business school INALDE. "The only option they have is to find a white knight that would come in to do a counteroffer."
On Wednesday, Argos said it has "serious concerns" about Gilinski's bid for Sura, in which it holds a 27.7% stake. It highlighted "the uncertainty, doubts and blockages generated by two simultaneous takeover bids by the same bidder, which has not clearly stated an objective or medium- and long-term strategic purpose," according to a statement.
Sura said in a regulatory filing that its board, with external advisers, is evaluating the Gilinski bid, which still needs regulatory approval.
That regulatory approval is likely to come later this month, according to the person familiar with the offer. The tender offer process would potentially close in January, the person said.