Coffee Growers Fret Lost Output In 'Ticking Time Bomb' Brazil
With the harvest season just a month away, Brazilian coffee farmers fear rotting of beans as they fear a shortage of hands
(Bloomberg) -- With less than a month to go before Brazil's coffee harvest is due to start, second-generation farmer Paulo Lagazzi frets he may not have enough field-hands to pick his entire crop before beans fall from their trees and start to rot.
In normal times, the 61-year-old would have reached deals with 40 to 50 seasonal workers by now and started laying plans to bring them in by private coach from elsewhere in Minas Gerais state or neighboring Bahia state. But these aren't normal times, with lockdowns the world over threatening to impact every step of the global food supply chain.
Lagazzi can tick off all the headaches that's caused: Closed borders between states and municipalities mean some or all of his workers may not be able to get to his 500-hectare (1,235-acre) plantation. And say they do arrive, Lagazzi struggles to figure out the best way to house them. Usually, he'd sleep four to a room, but social distancing means he'll have to split them up and space the beds apart. Worse, if someone gets sick, then what? Lagazzi said he's not at all prepared to handle a quarantine.
"We have no idea how to bring these people from other regions to harvest coffee with all the travel bans, nor how to accommodate or move them around on the farm," Lagazzi said. "And we also don't know what to do if someone gets sick. How many people should be quarantined in a situation like that?"
It's a problem playing out across Brazil, the world's largest producer and exporter of coffee. Most beans these days can be harvested mechanically, but at least a third of Brazil's arabica and all of its robusta production needs to be picked by hand, either because the crops are growing on mountainsides or because machines still can't handle certain types of trees, according to Regis Ricco Alves, director at agriculture consultant RR Consultoria Rural.
Brazil, now in the higher-yielding half of a two-year cycle, is expected to produce 44.6 million bags of arabica and 15 million bags of robusta, crop-forecasting agency Conab said. About two-thirds of that is exported. (A bag weighs 60 kgs, or 132 lbs.)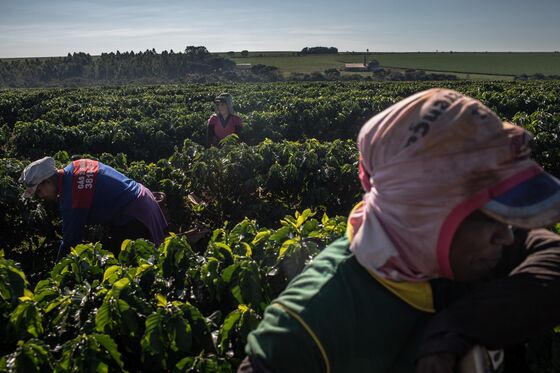 Arabica beans, the mild-tasting variety preferred by Starbucks Corp., have gained about 12% from a mid-March low, partially on concerns over low supply out of Brazil. Any delays in harvesting that compromise bean quality could push prices higher. Rabobank International analyst Carlos Mera, in a report today, called the migrant labor shortage in Brazil the "main risk" to the supply side.
"Brazil is a bit of a ticking time bomb in the sense that the president continues to dismiss the seriousness of this virus," said Alex Boughton, a coffee broker at Sucden Financial in London. "And whilst we are already hearing of logistical delays, that's likely to get worse as the nation struggles to deal with the steepening curve."
In Espirito Santo state, where most of Brazil's robusta beans are grown, harvesting would normally start up around mid-month and require about 50,000 temporary workers, said Edimilson Calegari, general manager at cooperative Cooabriel. This year, "we're instructing growers to wait a little longer until some government resolutions come out," he said.
Brazil's Agriculture Ministry, which has recently released a number of measures to guarantee that food supplies aren't disrupted during lockdowns, is working on a set of recommended best practices for farmers who need to hire temporary workers, said Luiz Rangel, deputy coordinator at the agency's Covid-19 commission. But it may take as long as two weeks before the guidelines, which Rangel said aren't mandatory, are published.
In the meantime, Lagazzi is steering in the dark and trying to figure out most of this on his own. Any delay, he said, will cost him money when he goes to sell his crop. One week past the April 27 harvest start date and the quality of coffee cherries starts to worsen, becoming more susceptible to wind and rain that can knock the fruit off the tree. By month's end, there'd be a "severe" loss of quality, he said.
"I'm spending more on new measures to clean my farm, I already adjusted the living situation and will spend more on fuel to transport fewer workers per trip," Lagazzi said. "Even so, I still can't be sure all of it's enough."