Clean Energy's $18 Billion Boom Spawns Double-Leveraged ETFs
Clean Energy's $18 Billion Boom Spawns Double-Leveraged ETFs
(Bloomberg) -- It's been a wild ride for investors who plowed billions of dollars into clean-energy funds over the past six months. Now one ETF issuer is getting ready to offer funds designed to amplify every move.
Direxion Investments plans to start an exchange-traded fund intended to double the daily performance of the S&P Global Clean Energy Index. The firm also is working on one that seeks to multiply the return of being short the index by two, according to a filing with the U.S. Securities and Exchange Commission.
The Direxion Daily Global Clean Energy Bull 2X Shares and Direxion Daily Global Clean Energy Bear 2X Shares would be the first leveraged clean-energy ETFs in the $6.2 trillion ETF industry. That will be a coming-of-age moment for the clean-energy sector, which has exploded in popularity, with assets surging to more than $18 billion from $4.3 billion a year ago -- even after a recent pullback. Leveraged ETFs use derivatives to amplify the return of the underlying assets.
"Some of these clean-energy ETFs are down 30% from their highs and flows are still positive, so demand for clean energy and thematic is still really strong in the face of that," said Athanasios Psarofagis, ETF analyst for Bloomberg Intelligence. "If you look at flows, most that came in clean energy were pretty late so most will be underwater and might be looking for a leveraged play on the way up to make up for that."
Popular funds in the clean-energy category such as the iShares Global Clean Energy ETF (ICLN) and Invesco Solar ETF (TAN) have notched a stellar run, rallying 140% and 234% respectively in 2020. That gave way to a drop in the first months of 2021, with the funds each falling more than 21% year-to-date.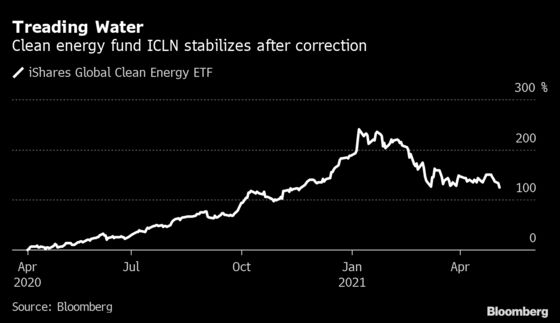 Still, inflows have largely held up, with the sector taking in $610 million in April. ICLN alone attracted $434 million last month and hasn't recorded a month of outflows since November 2019.
Overseers of the S&P Global Clean Energy Index also recently increased the target number of stocks in the gauge to 100 from 30. The idea was to reduce concentration risk and improve liquidity, which have become points of concern among investors as cash floods into clean-energy assets.
Direxion, which currently has about $23 billion in ETF assets, plans to charge a 0.75% expense ratio for each of the new products. Direxion declined a request for comment due to an SEC quiet period.
"Since we've had that change of presidency from Trump to Biden, there has been almost a 180-degree change in the way clean investment is viewed," said Fiona Cincotta, senior financial markets analyst at City Index. "It's increasing in demand and especially attention which then naturally you follow with some retail demand. I do think it's an area we will see come into the spotlight more and more as we go into 2021."