China Sends Up Three Astronauts to Help Build Its Space Station
China Sends Up Three Astronauts to Help Build Its Space Station
(Bloomberg) -- A Chinese rocket carrying three astronauts took off on Thursday morning to work on the development of China's first space station, part of the country's effort to catch up to the U.S. as a space power.
Shenzhou-12 launched from the Jiuquan Satellite Launch Center in northwestern China at 9:22 am, the China Manned Space Agency said. It will travel to the Tianhe, an orbiting module that's the first part of the Tiangong space station. The space station is under construction and due to be completed next year.
Once they arrive, the trio are scheduled to spend three months in the module to help with the development of the project's technology and systems, according to state media. It's the first crewed China mission since 2016.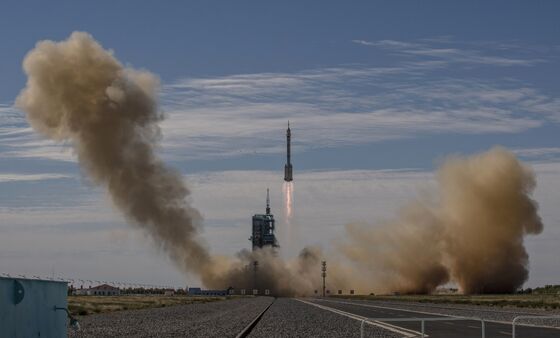 "We are honored to take the lead in a series of manned missions for the space station construction," astronaut Nie Haisheng, the senior member of the crew, told media on Wednesday ahead of the launch. "We will make the core module a 'space home.' "
China has made the construction of its own space station a major part of its space program, which also has included breakthroughs such as the landing of a rover on Mars. In 2019, a Chinese spacecraft became the first to land on the far side of the moon.
Chinese astronauts have never visited the International Space Station, a partnership of the American, Canadian, European, Japanese and Russian space agencies. A U.S. policy first enacted in 2011 prohibits most contact between NASA and its Chinese counterparts.
The launch of the Tianhe module in late April led to alarm worldwide because debris from the rocket made an uncontrolled re-entry to Earth. After worries about pieces falling on inhabited areas and possible causing damage, the remains of the rocket fell harmlessly into the Indian Ocean.
Success in space provides an opportunity for state-controlled media to trumpet the success of President Xi Jinping's government and appeal to Chinese patriotism. "Heroes on their way, soar into the clouds," broadcaster CCTV said after the launch on Thursday.
With assistance from Bloomberg