China Seeks Cheaper Solar in Shift to Efficiency From Growth
(Bloomberg) -- China's efforts to cool solar power capacity growth will cut electricity generation costs and the industry's reliance on government subsidies that helped drive record installations last year, the People's Daily reported.
Electricity rates paid to solar developers haven't fallen in line with photovoltaic panel costs and clean energy developers are owed more than 120 billion yuan ($18.7 billion) in subsidies, the paper reported, citing the National Energy Administration. Solar projects qualifying for subsidies can get at least 30 percent more than rates earned through a pilot program that awards projects through a bidding process, previously announced prices compiled by Bloomberg New Energy Finance show.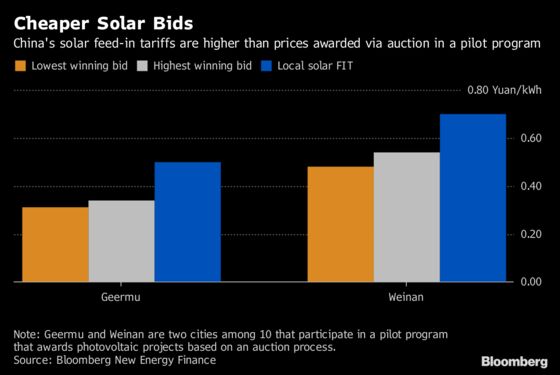 While China's feed-in tariff has helped it develop more solar capacity than any other country it has also faced challenges integrating that capacity into the grid because of congestion. The government said June 1 it would stop approving some new plants this year and curb financial support for projects as it tries to reduce curtailment and lower aid payments.
To read more about China's efforts to slow solar power capacity growth, click here.
The policy shift prompted a slew of bearish outlooks from analysts, many of whom have flagged prospects for a worldwide glut and falling prices. Goldman Sachs Group Inc., Daiwa Capital Markets Hong Kong Ltd. and BNEF are among those who have cut estimates for Chinese solar capacity additions this year, with forecasts ranging from about 30 to 42 gigawatts, compared with record installations of 53 gigawatts last year.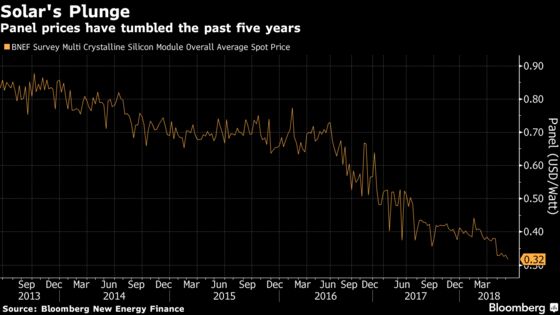 The power price China pays to utility-scale solar projects ranges between 0.5 and 0.7 yuan per kilowatt hour, while rates paid to projects awarded through a pilot bidding program earn between 0.31 and 0.54 yuan per kilowatt hour, according to data compiled by BNEF.
To contact Bloomberg News staff for this story: Feifei Shen in Beijing at fshen11@bloomberg.net
To contact the editors responsible for this story: Ramsey Al-Rikabi at ralrikabi@bloomberg.net, Aaron Clark, Jasmine Ng
With assistance from Editorial Board