Evergrande NEV Looks Further Away From Catching Musk Than Ever
(Bloomberg) -- The Chinese electric-vehicle startup that vowed in March 2019 to take on Elon Musk and become the world's biggest maker of EVs within five years seems further away from that goal than ever.
China Evergrande New Energy Vehicle Group Ltd., the Hong Kong-listed arm of struggling property behemoth China Evergrande Group, said on Monday evening it might have to delay car production unless it can secure more capital in the short term. 
"The mass production of Hengchi vehicles has entered the final stretch, nonetheless the group is still facing challenges on its cash flows," the company said, with reference to its car brand, which sports a roaring gold lion on the badge and translates loosely to 'unstoppable gallop.' "If the group lacks further capital contribution in the short term, the mass-production timetable of new energy vehicles may have to be delayed."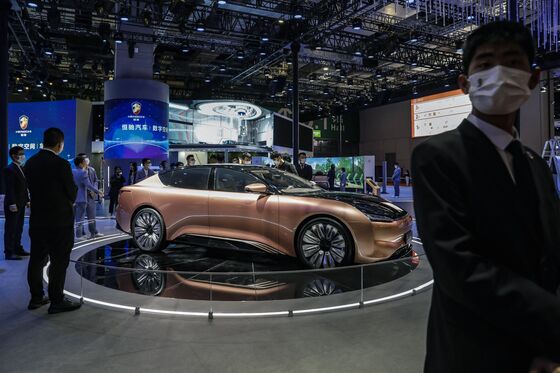 Evergrande NEV also reported a 4.8 billion yuan ($742 million) loss for the six months to June 30, confirming a profit warning from the parent company last week. Revenue came in at 6.92 billion yuan, with the vast majority of that -- 6.89 billion yuan -- from the group's health and aged-care business.
For shareholders loyal to Evergrande Chairman Hui Ka Yan's vision, it's been an awfully long wait. In the more than two years since his first proclamation, Tesla Inc. has gained an enviable foothold in China while local rivals like Nio Inc., Xpeng Inc. and Li Auto Inc. are hitting real, tangible production targets. Xpeng is aiming to turn profitable within two-to-three years as it ramps up deliveries while Li Auto delivered a record 17,575 units in the quarter ended June, a 166% increase from a year earlier.
Monday's announcement marks at least the third time Hui has sounded a public warning on car-production targets. Speaking on an earnings call in late March, the billionaire did however issue a buoyant new forecast: 5 million cars a year by 2035. (By way of comparison, global giant Volkswagen AG delivered 3.85 million units in China in 2020.)
This week's earnings release made no such mention of any forecasts and while the tiny amount of revenue Evergrande NEV does get from its vehicle division rose 54%, mainly on sales of car components and provision of technical services, sales of lithium batteries sunk 79%.
Investors sent shares in Evergrande NEV down as much as 5.8% on Tuesday, bringing losses for the month to 54%. The stock has slumped 92% from its February high, wiping out more than $80 billion in market value from what was once the property developer's most valuable listed asset.
Evergrande's subsidiaries are also being punished on concern the world's most-indebted developer, which reports its own financial results later on Tuesday, will need to sell assets at a steep discount amid mounting pressure from Beijing.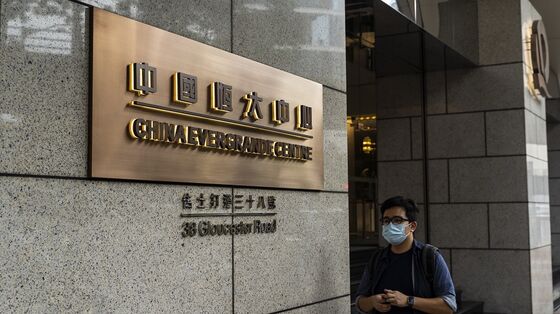 Acknowledging challenges on cash flow, the EV startup said it faces risks of defaulting on its loans and disputes outside normal business. It will continue efforts to discuss the sale of assets with potential investors and closely monitor the capital expenditure of the EV business.
The startup had 12.5 billion yuan of cash buffer at the end of June, compared with 13.3 billion yuan of borrowings and 73 billion yuan of trade payables due within a year, Monday's filing showed. 
"Now that the parent company has a liquidity problem, it's impossible for Evergrande New Energy to meet previous targets for car production." Castor Pang, head of research at Core Pacific-Yamaichi International H.K. Ltd., said before the release. 
Even at its relatively sound health-care segment, payments to suppliers and construction fees in the "Health Valley" aged-care communities were delayed, the company said. Some projects were suspended as a result. 
With assistance from Bloomberg