China Plane Crash Update: Pilots Didn't Answer Calls as Jet Dove
Boeing offered technical support to the China-led investigation, which is the country's worst aviation accident in over 10 years.
(Bloomberg) -- Pilots of a doomed China Eastern Airlines Corp. Flight 5735 failed to respond to multiple calls from Chinese air-traffic controllers after tipping into a deadly nosedive, authorities said at a press conference. 
Investigators are sifting through evidence to understand why the Boeing Co. 737-800 NG plane carrying 132 people crashed in southern China on Monday. It's too early to draw any clear judgments about the cause, a Chinese air-safety official said at a press conference late Tuesday.
The dive by the China Eastern Airlines Corp. jet from about 29,000 feet (8,840 meters) is baffling air-crash specialists. Boeing has offered to help China's investigation. China Eastern grounded its fleet of 737-800s, and thousands of domestic flights were canceled Tuesday across the nation. Chinese officials ordered a sweeping two-week safety review.
The jet speared into a hillside near Wuzhou in the Guangxi region. Witnesses said the aircraft disintegrated and emergency teams haven't found any survivors. All 123 passengers and nine crew are presumed dead, which would make it China's first fatal commercial airliner crash since 2010 and the deadliest in nearly three decades. Bad weather could hamper search efforts.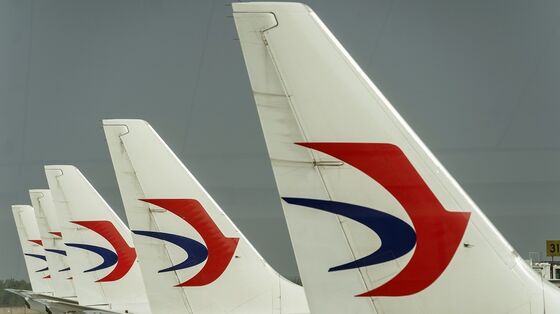 Chinese regulator orders sweeping air-safety review
Aircraft's nosedive from 29,000 feet puzzles experts
Previous crashes may give clues to mystery plunge
Boeing's tenuous recovery in China shaken by crash
Commercial air disaster is China's first in a decade
Jet was traveling from Kunming in Yunnan province to the manufacturing center of Guangzhou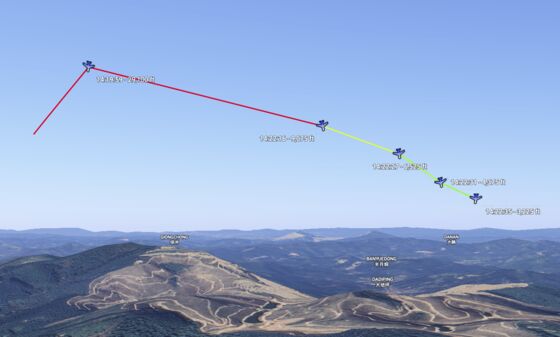 No Response (9:54 p.m. HK)
Air traffic controllers tried multiple times to reach pilots of doomed China Eastern Flight 5735 after it tipped into a deadly dive on Monday but received no response to their calls, an official with China's Civil Aviation Administration said at a press briefing. 
The plane disappeared from radar screens at 2:23 p.m. local time, three minutes after it started a steep descent, the official, Zhu Tao, said at the end of the first full day of searching through the wreckage. No survivors have been found.
Based on current information, Chinese officials are unable to make clear judgment about the cause of Monday's crash, Zhu said. The ongoing investigation will be difficult, he said, describing a devastating impact and hilly terrain in the search area. 
The so-called black boxes -- separate voice and data recorders which are actually orange in color -- haven't yet been found, state-backed news agency Xinhua reported. The team will continue to collect evidence toward a full understanding of the cause, Zhu said. 
Air-Safety Review (8:48 p.m. HK)
The Civil Aviation Administration of China ordered a sweeping two-week safety assessment that encompasses air-traffic control bureaus, airlines, airports and flight-training organizations, according to the agency's CAAC News, which cited an official notice. 
At the same time, China Eastern is beefing up cockpit crew requirements on at least some aircraft types. Two senior captains, with an instructor in the lead, and one senior co-pilot are now required for safety redundancy, The Paper reported. Alternatively, two flight instructors, one being the captain, can work with a senior co-pilot, the Chinese news outlet said, citing people who worked at China Eastern. 
The Sun reported earlier that the crew involved in Monday's crash included a pilot, a co-pilot and a trainee pilot in the jumpseat. The U.K. newspaper cited unnamed sources in China. 
U.S. Embassy Extends Condolences (6:28 p.m. HK)
The U.S. Embassy Beijing Charge d'Affaires David Meale said in a statement he was "deeply saddened by the news of the crash."
"The entire U.S. mission in China expresses our deepest condolences to those affected. We are ready to assist in investigation efforts and wish to share our admiration and respect for the emergency responders," Meale said.
Aircraft Was Owned by Japanese Leasing Firm (5:39 p.m. HK)
The China Eastern plane was leased from Yamasa Group, a Japanese company that, according to its website, has businesses ranging from aircraft leasing to renting family homes in the U.S. and making pachinko machines, which are popular arcade games in Japan. 
When contacted by Bloomberg, a person at the company confirmed that Yamasa owned the plane and had leased it to China Eastern, but declined to give any more details.
China to Hold Briefing on Crash (4:33 p.m. HK)
The State Council investigation team will hold a briefing this evening on rescue work being carried out, state television reported, without specifying a time. 
China Eastern Shares (4:18 p.m. HK)
China Eastern shares closed down 2.6% in Hong Kong, paring an earlier loss of 7.3%. The Shanghai-traded shares of the company lost 6.2%, making it the worst performer on a Bloomberg gauge of Asia-Pacific airline stocks. 
Foreign Ministry on U.S. Role (3:45 p.m. HK)
Asked whether China would facilitate the involvement of U.S. aviation safety and Boeing investigators in the crash probe, Foreign Ministry spokesman Wang Wenbin demurred, saying relevant government departments would release more information.
"We are deeply saddened by the crash of the China Eastern Airlines airplane," Wang told reporters in Beijing. "The relevant competent authorities are making all out search-and-rescue efforts and will identify the cause of the accident as soon as possible and ensure the absolute safety of civil aviation operations."
He also said there were no foreign citizens on the aircraft, based on preliminary checks. 
Bad Weather May Hamper Recovery Efforts (3:22 p.m. HK)
Torrential rain is forecast in the crash area, which may impede rescue efforts, Xinhua News Agency reported. High winds are also expected. Caixin said weather conditions were good at the time of the crash, citing an official from China's meteorological administration.
Passenger Possessions Found (2:07 p.m. HK)
Rescue workers at the crash site found wallets and bank cards belonging to some of the passengers, China state television reported. 
Mining Executive Among Passengers (1:45 p.m. HK)
Dinglong Culture Co. said its chief financial officer, Fang Fang, was among the passengers on the crashed plane. In a statement, the Chinese mining company denied rumors circulating online that several company officials were on board.
China's Mass Flight Cancellations (11:58 a.m. HK)
About 74% of the 11,800 flights scheduled in China on Tuesday were canceled following the jet crash, including the majority between Beijing and Shanghai, typically one of the world's busiest domestic routes, according to VariFlight. 
Chinese air travel had already been hit by Covid-related restrictions, which led to a high level of cancellations, but Tuesday's rate was still the highest this year and double the number at the start of the month.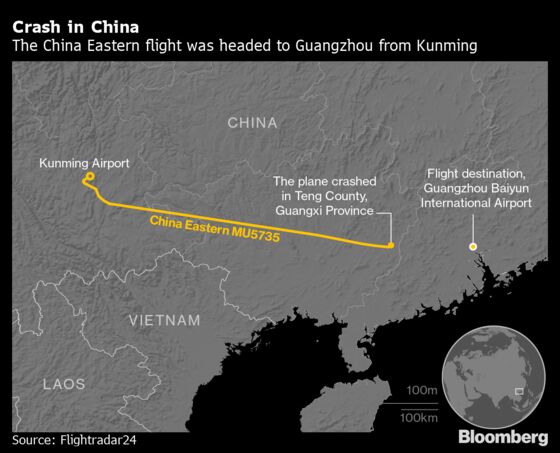 China Fleet Implications (10:44 a.m. HK)
China has the world's largest fleet of Boeing 737-800s, meaning any further groundings of the jet could have a significant impact on domestic travel, according to aviation consultancy IBA Group Ltd. 
China's fleet of nearly 1,200 of the aircraft is also the world's youngest, with an average age of about eight years, five below the global average, IBA said. The China Eastern 737-800 that crashed was delivered to the carrier in June 2015. 
No Survivors Found: State Media (10:31 a.m. HK)
No survivors from the China Eastern jet that crashed Monday had been found as of 7 a.m. Beijing time on Tuesday, state television reported.
China Eastern Stock Falls (9:33 a.m. HK)
Shares in China Eastern dropped as much as 7.3% in Hong Kong before trading down 5.5% at HK$2.60. The airline operated 89 Boeing 737-800 jets, making it the sixth-largest operator of that model in China, while China Eastern Airlines Yunnan had 15, according to IBA.
China Eastern warned in January it expected a loss of as much as 13.5 billion yuan ($2.1 billion) for 2021, mainly due to the Covid-19 pandemic as well as rising fuel prices that increased costs.
Boeing Offers Technical Support (6:49 a.m. HK)
Boeing said it has offered "the full support of our technical experts" to China's probe into the crash. 
"We will be doing everything we can to support our customer and the accident investigation," Boeing Chief Executive Officer David Calhoun said in a message to staff. "We are deeply saddened by the news of the accident."
Calhoun said the company was committed to "safety, transparency and integrity at every step."
China Vice Premier Investigates: NYT (5:47 a.m. HK)
China Vice Premier Liu He, who typically steers economic policy, has been tasked with overseeing the investigation into the disaster and joined searchers in Guangxi, the New York Times reported.
CFM Named as Technical Advisor (5:04 a.m. HK)
The engines on the China Eastern jet were manufactured by CFM, the U.S. National Transportation Safety Board said in a tweet. CFM, a joint venture of General Electric Co. and Safran SA, will be the technical advisor for any issues related to the engines, the NTSB said.
U.S. Appoints Investigator (4:13pm New York)
The NTSB has appointed a senior investigator to work with China on its crash probe, the agency said in a tweet. In addition to its own experts, the NTSB will be assisted by representatives from Boeing and the U.S. Federal Aviation Administration.
Under a United Nations treaty, the country where a crash occurs takes the lead in an investigation, and representatives from the nation in which the plane and its components were built can participate.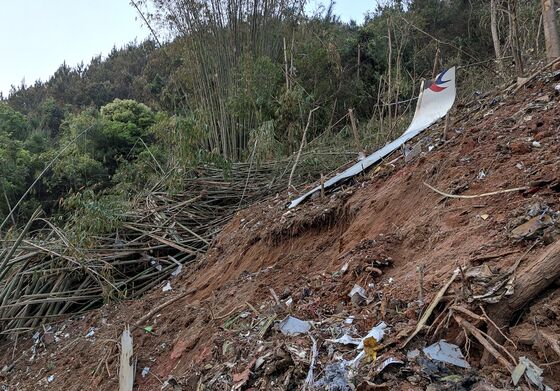 Boeing, Supplier Decline (4:00pm New York)
Boeing's shares fell 3.6% Monday as investors worried about fallout from the crash and subsequent investigation. The slide was the biggest in two weeks and nearly doubled its 2022 decline. While the China Eastern plane was not a 737 Max, the latest accident is renewing questions about the planemaker's safety culture as the Max nears a possible return to commercial flights in China.
Spirit AeroSystems Holdings, which manufacturers large portions of Boeing airframes, dropped 3.5%.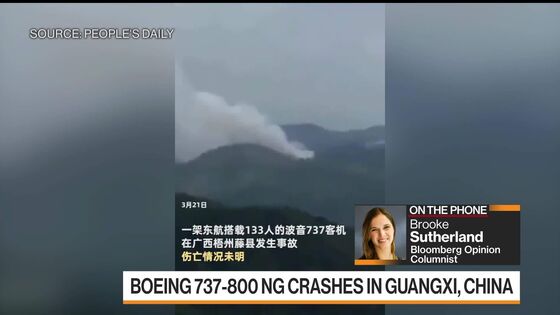 Last Moments? (12:34pm New York)
Chinese media outlet The Paper posted a video it said was captured by a nearby mining company of the China Eastern jet dropping nose-first from the sky before disappearing over a ridge covered with dense vegetation. 
The aircraft in the video was intact on its way down, but too far away to show markings that would identify it as a China Eastern plane.
The Paper said it verified the video with Beichen Mining Co., which does work in the area and installed cameras about 1 kilometer from the crash site. Bloomberg couldn't independently verify the images.
With assistance from Bloomberg