China Expands Fleet in Disputed Sea Despite Manila's Protest
China Adds Ships in Disputed Sea, Philippine Top Diplomat Says
(Bloomberg) -- China has deployed more ships in a disputed area of the South China Sea even after the Philippines' repeated protests, according to President Rodrigo Duterte's top diplomat who's pledged to take up the issue with his Chinese counterpart.
The Southeast Asian nation is considering another protest after Beijing increased the number of Chinese vessels in the contested waters to almost 300 from just over 200 in March, Foreign Affairs Secretary Teodoro Locsin said. "This is essential because you never let any incident pass," he told Bloomberg TV on Wednesday.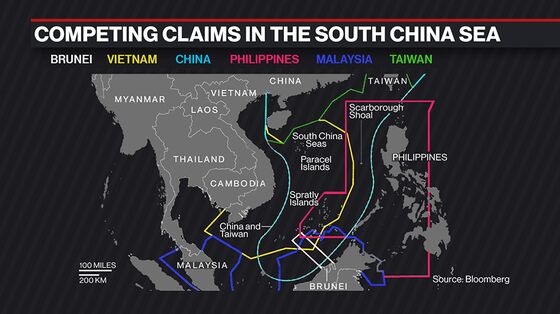 Bigger groupings of Chinese maritime militia vessels have been spotted at China's artificial islands in the South China Sea, a Philippine task force monitoring the area said in a separate statement. The Philippines will continue patrols in the area, it added.
Tensions between the two nations have been escalating over the past months, with the Philippines -- backed by the U.S. -- repeatedly protesting and seeking to have Chinese vessels in the South China Sea leave. Duterte has however maintained his friendly stance toward Beijing, recently calling it a "benefactor."
The vessels were simply "taking shelter from the wind," Chinese Foreign Ministry spokeswoman Hua Chunying said on March 22 when the news first broke.
"We have smooth channels of communication with the Philippines and broad consensus that the South China Sea issue is only 1% of the issues concerning the two sides," Hua said during a regular briefing on Wednesday. "We will properly handle issues through dialog to ensure the healthy and sound development of bilateral relations."
The Philippines will not give up its sea claims, Locsin said, even as it seeks to cooperate with China on energy and vaccines. Negotiations with China on oil exploration in the South China Sea are making progress, he added.
"China's enormous economy is essential for post-pandemic recovery for entire globe," Locsin said.
Talks were going "very well" with the U.S. on the Visiting Forces Agreement that Duterte wanted to terminate, Locsin said, adding that most disagreements have already been resolved. The Philippines is also eyeing the purchase of excess vaccines from the U.S., the Cabinet official said.