Chile's Peso Extends Losses Ahead of Sunday's Elections
Chile's Peso Extends Losses Ahead of Sunday's Elections
(Bloomberg) -- The Chilean peso sank to its lowest since May last year as traders punished the currency ahead of the nation's hotly contested election on Sunday.
The peso fell as much as 1.45%, falling to a session low of 841.22 before paring losses. The currency has weakened 4.4% in three days, its worst performance since January. 
The latest drop came after the Finance Ministry halted dollar sales until December, copper weakened and the hard-line conservative candidate Jose Antonio Kast slipped up in the latest presidential debate. Kast and leftist former student leader Gabriel Boric lead the polls going into Sunday's election. If no candidate wins a majority, a runoff election will take place on Dec. 19.
"The election outcome is highly uncertain right now and will continue to act as a drag on CLP at least through the runoff in December," said Brendan McKenna, a strategist at Wells Fargo in New York. "Local political developments can weigh on CLP for the time being."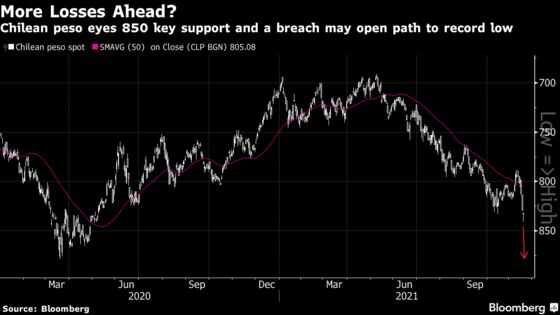 Chile's Finance Ministry said yesterday that it halted dollar sales to maintain a certain level of dollars in cash, as has happened on other occasions. The move has weighed on the peso, Citibank strategists led by Dirk Willer wrote in a note.
"The halt in USD sales comes right before the first round of a highly uncertain presidential election," the analysts wrote. "Thus, we expect this, along with election uncertainty, to lead to CLP underperformance."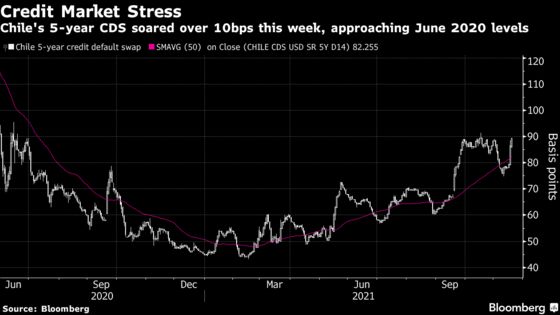 The cost of insuring the country's bonds against non-payment has also risen, soaring to 89 basis points on Thursday from last Friday's close of around 78 basis points.