Chemical Leak Kills Two at LyondellBasell Plant Near Houston
Chemical Leak Kills Two at LyondellBasell Plant Near Houston
(Bloomberg) -- A chemical leak that killed two people and hospitalized 30 at a LyondellBasell Industries NV plant near Houston is under investigation.
The incident at LyondellBasell's complex in suburban LaPorte that began Tuesday evening is over and air-monitoring indicates "no levels of concern," the company said in a statement. Federal and state regulators have been alerted and LyondellBasell said it's probing the cause.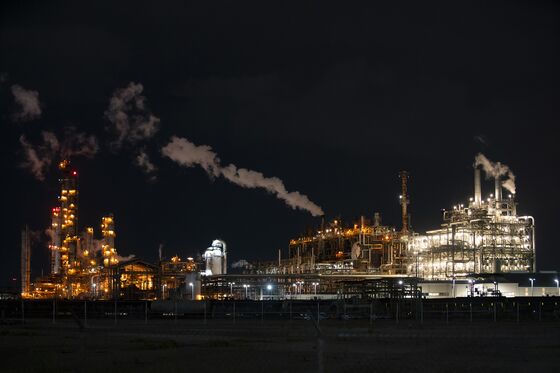 The deadly leak came less than a week after a separate chemical spill at a nearby Dow Inc. plant that prompted evacuations and an order for residents to remain indoors and shut off air conditioners to avoid the pollution. As recently as late 2018, the LyondellBasell facility was penalized for "high-priority" violations by the U.S. Environmental Protection Agency.
Of the 30 injured workers, six remained hospitalized as of late morning local time, LyondellBasell said.
LyondellBasell recorded one employee fatality and one contractor death in 2019, the latest year for which Bloomberg has such data.
The leak occurred in the plant's acetyls unit, which produces chemicals including glacial acetic acid and vinyl acetate monomer that are used as raw materials for making paints, films and textiles. This acetyles unit had been shut earlier Tuesday for planned maintenance.
The U.S. Chemical Safety and Hazard Investigation Board expects their team to arrive at the investigation site this afternoon, according their statement.