Central Banks to Increase Gold Buying for First Time Since 2013
Central Banks to Increase Gold Buying for First Time Since 2013
(Bloomberg) -- Central banks are set to increase their purchases of gold in 2018 for the first time in five years as eastern European and Asian countries seek to diversify their reserves.
Net purchases of gold by central banks are forecast to rise to 450 metric tons this year, up from 375 tons in 2017, according to consultancy Metals Focus Ltd. That will be the first increase since 2013, when banks boosted their holdings by 646 tons, the most for several decades.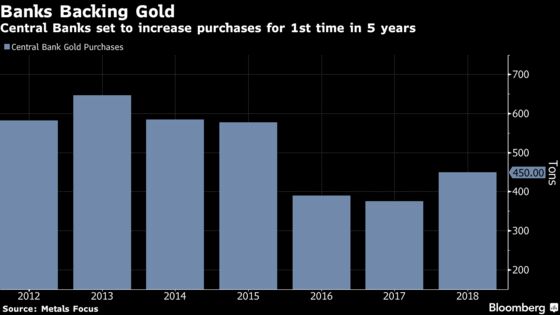 With just over two months of the year left, it's more likely that the projection will be raised than lowered because central banks generally seem interested in purchases, according to Junlu Liang, a senior analyst at London-based Metals Focus.
"Official sector purchases are likely to remain healthy, as a result of ongoing efforts to diversify reserves among emerging market countries," Liang said in a weekly note. "Indeed, in spite of purchases by a number of central banks in recent years, the share of total reserves that their gold holdings account for remains arguably low, especially when compared to that seen across western countries."
The central banks of Poland and Hungary have surprised the market by adding to their gold holdings for the first time in many years. Whereas Hungary's 10-fold increase of its gold reserves looks to be a one-off strategic purchase, Poland has made incremental additions for the last three months, suggesting the policy could continue, according to Liang.
The biggest driver of this year's gain has been Russia, whose central bank has added about 20 tons on average every month. Kazakhstan and Mongolia have also been among the buyers.
To contact the reporter on this story: Rupert Rowling in London at rrowling@bloomberg.net
To contact the editors responsible for this story: Lynn Thomasson at lthomasson@bloomberg.net, Dylan Griffiths, Nicholas Larkin
Get Your
Daily Newsletter
Get market moving news, top news & compelling perspectives
---