Cathay, Swire Pacific, Air China Suspend Trading in Hong Kong
Cathay, Swire Pacific, Air China Suspend Trading in Hong Kong
(Bloomberg) -- Embattled Hong Kong carrier Cathay Pacific Airways Ltd. and its two main shareholders, Swire Pacific Ltd. and Air China Ltd., suspended trading of their shares Tuesday pending an announcement.
The move comes as Cathay contends with a slump in traffic brought on by the coronavirus outbreak and the travel restrictions that ensued. The curbs hit Cathay particularly hard because it has no domestic market to fall back on, whereas carriers in China are rebuilding capacity on flights within the mainland.
Even before the pandemic, Cathay was under enormous financial and political pressures as it found itself caught up in the Hong Kong anti-government protests, which affected traffic numbers and led to the exit of the company's former chief executive officer. Cathay was criticized by China, protesters and its own workers for its response to the demonstrations.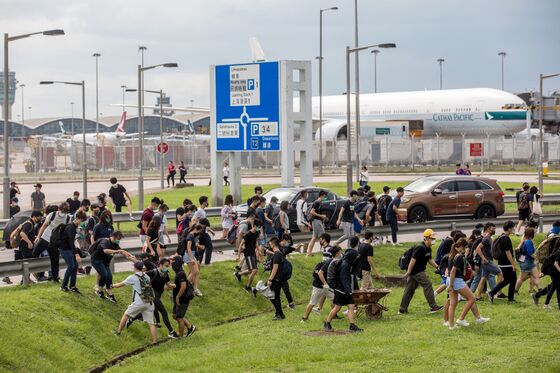 Air China has owned about 30% of Cathay for more than a decade, while Swire, one of the last remaining British trading companies based in Hong Kong, has a 45% stake. Qatar Airways has a 9.99% holding.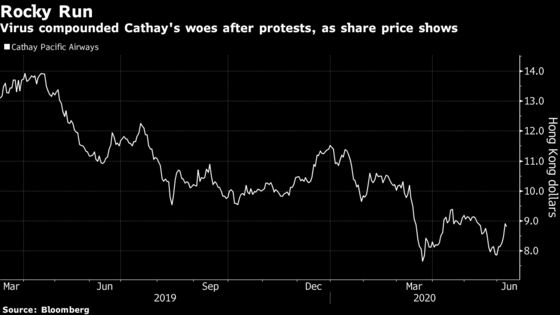 Cathay could be planning to raise funds via a rights issue backed by Swire and Air China, said Justin Tang, head of Asia research at United First Partners. He also said there's been speculation that Air China may propose a takeover by buying Swire's stake.
Cathay and its Cathay Dragon unit posted an unaudited net loss of HK$4.5 billion ($581 million) in the first four months of the year as their route network shrank to just 14 destinations. In April, the two carriers combined flew only 458 passengers a day, on average, and Cathay warned that international travel demand will take a few years to recover. Cathay also owns Hong Kong Express.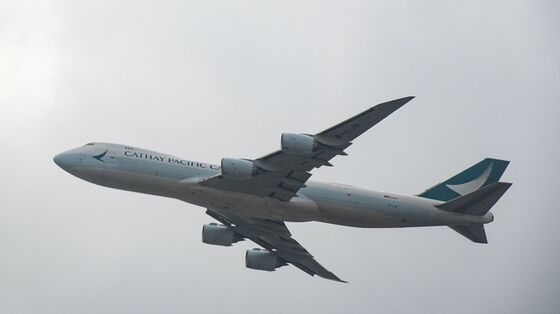 The coronavirus has hurt airlines the world over. Singapore Airlines Ltd., which like Cathay doesn't have a domestic market to speak of, raised S$8.8 billion ($6.3 billion) in a rights issue last week and has followed that by securing new lines of credit and loans to further bolster its finances. Morgan Stanley said the rights issue alone should provide enough liquidity to see the airline through the fiscal year.
The International Air Transport Association last month said the global airline industry's debt could swell by 28% to $550 billion this year, with carriers expected to burn through about $60 billion of cash in the second quarter alone.