Buffett's Berkshire Taps Yen Debt With $1.5 Billion Offering
(Bloomberg) -- Warren Buffett's Berkshire Hathaway Inc. priced yen-denominated bonds on Thursday, as yield premiums in the Japanese market have tightened to the least in over two years.
The conglomerate sold 160 billion yen ($1.5 billion) of notes in a three-part deal. The U.S. firm, which is sitting on $138 billion of cash, will use the funds for general corporate purposes including refinancing of debt. The fundraising comes after the company said last year it purchased stakes of about 5% in Itochu Corp., Marubeni Corp., Mitsubishi Corp., Mitsui & Co. and Sumitomo Corp.
The amount raised in the debt issuance is theoretically "just enough" to raise by 1% Buffett's stakes in the five Japanese trading houses, Jefferies Financial Group Inc. analysts Thanh Ha Pham and Sangin Yun wrote in a note. Berkshire had said last year that it may increase its holdings in any of the firms up to a maximum of 9.9%.
It's a good time to be raising funds in Japan. Average spreads on local corporate bonds there have fallen to about 29 basis points, the least since December 2018, after the Bank of Japan adjusted its monetary policy to enable it to continue with easing over the long run.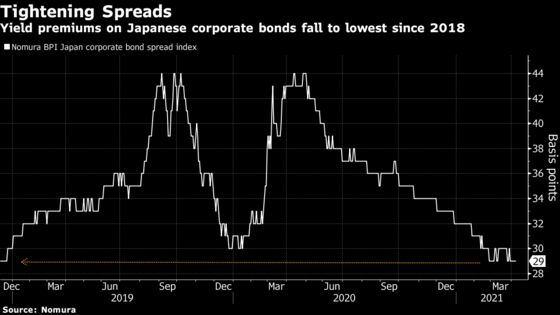 The offering gives Japanese investors an opportunity to buy into a well-known global firm while enjoying a bit more yield than is generally on offer in the local market.
As part of the deal, Berkshire Hathaway priced 80 billion yen of 10-year bonds at a coupon of 0.437%, compared with about 0.1% on Japanese government debt of the same tenor. The deal also included 5-year and 20-year notes, with expected ratings from Moody's Investors Service and S&P Global Ratings higher than those given to Japanese sovereign debt by those firms.
Debt sales in yen by foreign issuers typically pay Japanese investors more spread than local issuers of comparable credit quality because of perceived additional risks.
The relative attractiveness of Berkshire Hathaway's bonds can be seen also by comparing them with recent offerings from Japanese companies locally.
The U.S. company's 5-year note pays an interest rate of 0.173%, compared with 0.05% coupon on a similar tenor debt security priced by Toyota Motor Corp. last month. Nagoya Railroad Co. sold a five-year bond, which priced with a coupon of 0.09% in March that garnered demand almost nine times the issuance size.