Buffett-, Anschutz-Backed Power Lines Get Deal to Move Forward
(Bloomberg) -- Developers of two transmission lines to bring wind power from the U.S. Rockies to the West Coast have reached an agreement with a Colorado ranch to traverse its land, removing a key hurdle that has blocked both projects for years.
The deal between Cross Mountain Ranch and the projects being built by billionaire Philip Anschutz and PacifiCorp, a unit of Warren Buffett's Berkshire Hathaway Inc., was reached Dec. 22, a spokeswoman for Anschutz's company said. Terms weren't disclosed.
"An agreement was reached among all parties," Kara Choquette, director of communications and government relations for TransWest Express LLC, said in an email. "Development of both transmission lines continues to move forward."
The projects still need formal approval from the U.S. Department of Agriculture, according to a Dec. 23 filing in U.S. District Court in Colorado. The agency had previously granted a conservation easement limiting development on the property to protect sage grouse habitat. 
The deal potentially ends a years-long standoff underscoring the challenge of building the type of long-haul transmission crucial to unlocking the U.S.'s full potential for wind and solar. Many of the best places to develop clean power are far-flung deserts and plains, but stringing power lines to reach them can take a decade or more because of approvals needed from state agencies, the federal government and private landowners. The delays are one of the biggest threats to U.S. President Joe Biden's ambitions to rid power grids of fossil fuels.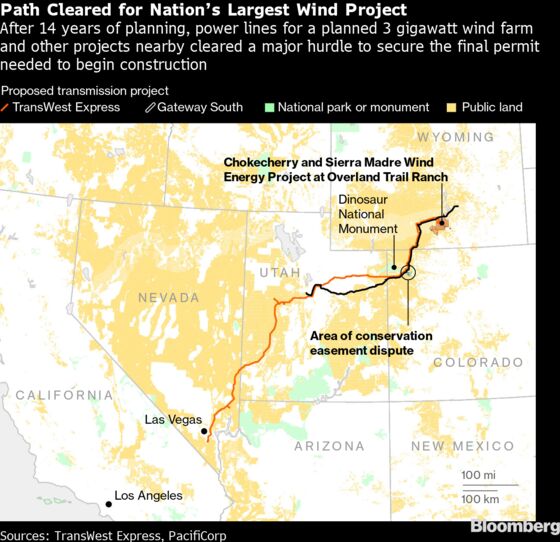 Cross Mountain is owned by the family of Ronald Boeddeker, a Las Vegas developer who died in 2010. 
Anschutz's project, called TransWest, will run for 732 miles (1,178 kilometers), connecting a 3,000-megawatt Wyoming wind farm to Las Vegas. The transmission project turned 14 years old last month. PacifiCorp's project, Gateway South, will run about 400 miles, bringing additional wind power from Wyoming to Utah. 
The power from the projects will ultimately flow to homes and businesses across the U.S. West.
Once the final permits are received, TransWest could begin construction in 2022. Work on Gateway South is expected to start in 2023. Together, the lines will be able to transport 4,500 megawatts, more than twice the electricity generated by the Hoover Dam.