Brazil's Congress Gears Up to Deliver on Bolsonaro's Gun Promise
(Bloomberg) -- With former Army Captain Jair Bolsonaro on the cusp of winning Brazil's presidency, his allies in Congress plan to deliver on his campaign promise to ease the country's restrictive gun laws as early as this year.
Gun ownership is one of the flagship campaign pledges of the former paratrooper, who regularly greets his fans by cocking his hands in a gun-shaped salute. Way ahead of his rival Fernando Haddad in opinion polls, Bolsonaro is on course to be elected Brazil's next president on Oct. 28.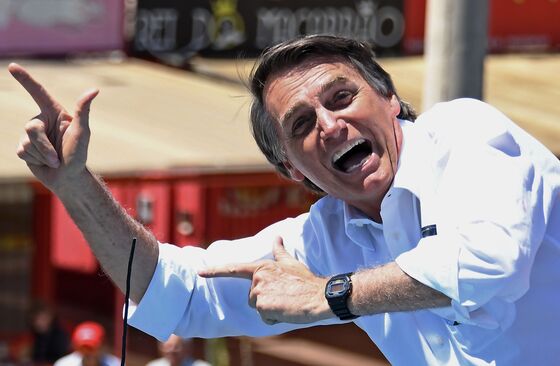 Although gun ownership is already legal in certain restrictive circumstances, a bill already in Congress aims to expand access. "The key point is to simplify the law and allow any citizen to own a gun," said Sostenes Cavalcante, a lawmaker from the influential evangelical caucus, most of whom supports Bolsonaro in the lower house.
The bill, which is ready to be voted on the floor of the house, proposes granting citizens "the right to own and bear firearms for legitimate self-defense and the protection of personal property". It would also cut taxes on guns and reduce the minimum age requirement for purchasing guns from 25 to 21.
Despite the fact that an August survey showed that a majority of Brazilians are against the idea of liberalizing gun ownership, the bill should pass easily in the legislature, assuming a Bolsonaro victory. It only needs a simple majority to become law.
"If Bolsonaro is elected, we'll vote on this quickly,"said Jose Rocha, the leader of the PR party, the fifth-largest in the lower house.
Even those largely opposed to Bolsonaro's agenda see a high probability that the measure will be approved soon, although it may have to wait until after the new, more conservative Congress sits in February. Julio Delgado, a member of the center-left PSB, anticipates that the statute will be one of the first things the new legislature will work on. "This subject has the most appeal," he said. "Other issues, like pension reform, they are very controversial."
Throughout his 28 years in Congress, Bolsonaro has consistently proposed the liberalization of gun ownership, and it has featured prominently in his presidential campaign.
"Weapons are tools, inert objects, that can be used to kill or to save lives. This depends on who's holding them: good people or bad guys," his policy document states.
In a Facebook live on Oct. 14, Bolsonaro said that gun ownership is a legitimate form of self-defense.
"Why have I always defended the ownership of firearms? It's so that you, upstanding citizens, with a few requirements, can have a weapon inside your house or your farm. If some guy breaks down the door to your house, knocks down the gate of your farm, you have the right to react," the far-right candidate said.
Brazil's firearm manufacturer Forjas Taurus SA saw its shares more than triple in value this year, on the back of expectations Bolsonaro will win the election. The stock is up 330 percent year-to-date and its 100-day historical volatility is at the highest level since at least 2008, according to data compiled by Bloomberg.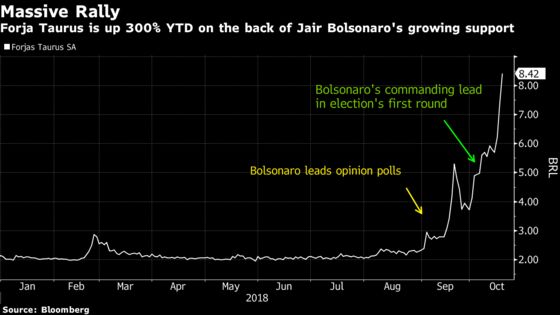 The company's weak fundamentals were offset by bets access to weapons will grow under a Bolsonaro administration. "Forjas Taurus continues in a critical situation, with high debt. But the prospect of a Bolsonaro win gives the company a second wind," Glauco Legat, the chief analyst at brokerage Spinelli, told Bloomberg by phone.
The 2003 disarmament statute banned everybody but public security forces from carrying weapons. In Brazil, it is forbidden to sell firearms and munition, except to licensed professionals. The federal police can authorize people who can show that they need to keep weapons at home, as long as they have a clean criminal record and and pass a psychological aptitude test to handle a gun.
Specialists warn that liberalizing gun laws could increase Brazil's already high levels of violence, which saw over 63,000 violent deaths in 2017. According to Bruno Paes Manso, a researcher at the Violence Studies Center at the University of Sao Paulo, scrapping the disarmament statute, together with Bolsonaro's tough-talk on crime, could raise social tension and pave the way for more paramilitary groups.
"Putting more arms in circulation would be like pouring oil on a highly volatile situation," he said.
To contact the reporters on this story: Simone Iglesias in Brasília at spiglesias@bloomberg.net;Samy Adghirni in Brasilia Newsroom at sadghirni@bloomberg.net;Vinícius Andrade in São Paulo at vandrade3@bloomberg.net
To contact the editors responsible for this story: Vivianne Rodrigues at vrodrigues3@bloomberg.net, Bruce Douglas, Raymond Colitt