Russians Seeking Bargains Have Discounter Familia Eyeing IPO
(Bloomberg) -- Russia's biggest off-price fashion store is considering an initial public offering after a record listing by Fix Price Group Ltd., as local discounters thrive during a seven-year slump in incomes.
Familia, whose shareholders include Goldman Sachs Group Inc., TJX Cos. and Baring Vostok Capital Partners, hired Morgan Stanley and Goldman to prepare for an IPO in New York as early as the start of 2022, according to a person familiar with its plans, who asked not to be identified because it is not public. Spokespeople for the banks declined to comment.
Russia is having the best year for share sales since before President Vladimir Putin annexed Crimea in 2014, helped by Fix Price's London listing in March, the biggest ever for a Russian retailer. On Thursday, miner Nord Gold Plc announced plans to hold an initial public offering in London. Even as investor appetite returns, stagnating household incomes have pushed buyers toward discount chains.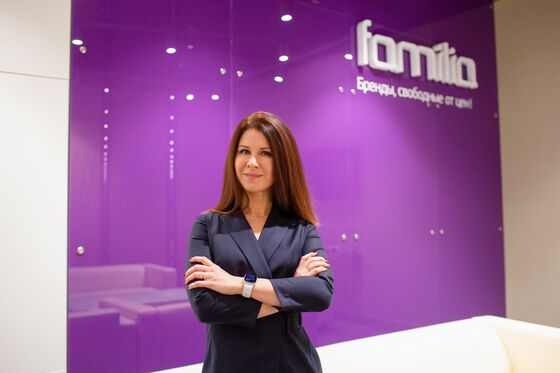 "Russians are extremely brand-focused," Chief Executive Officer Svetlana Mozhaeva said in an interview, declining to comment on any IPO plans. "Once a customer understands that we are offering real brands at unreal prices, they will come back again and again."
Like Fix Price, Familia relies on a discount format that is well-established in the West and emphasizes in-person sales over web traffic.
Dependence on stores hurt Familia as a lockdown during the first wave of Covid-19 infections dried up revenue overnight. Sales fell 8% last year. Revenue in January-May was up 33% compared to the same period in 2019, before the pandemic distorted its results, with like-for-like sales up 4%.
The government resisted further lockdowns, helping the company and economy overall rebound from the pandemic slump, while keeping international travel restrictions remained in place.
"We have even benefited to a degree from the decline in travel, as we offer brands that are otherwise not available in Russia," said Mozhaeva, who was promoted to CEO at the start of the lockdown and guided the company through most its trying period.
Familia's EBITDA margin was at least 14%, Mozhaeva said. That compares with 19% for Fix Price last year.
"Top line growth is very strong and the profitability is sound," Gazprombank analyst Marat Ibragimov said of Familia. "There is a window of opportunities for private Russian companies to tap the capital market and get attractive valuations."
Familia offers 7,500 brands at about 350 stores around Russia, with half in the Moscow and St. Petersburg regions. It plans to open 60 stores this year and will remain focused on local growth.
TJX, which runs TJ Maxx, Marshalls and HomeGoods, acquired a 25% stake in Familia in 2019 for $225 million, following Goldman Sachs and Baring Vostok, which had become shareholders in 2016. The company's founders Dmitry Lukovnikov and Herman Oshkordin remain shareholders. Familia doesn't disclose their stakes.