Historic Paris Jewelry House Makes Waves With Holographic New Collection
Historic Paris Jewelry House Makes Waves With Holographic New Collection
(Bloomberg) -- This week during Paris Haute Couture Week, jewelry houses will unveil exquisite high jewelry creations featuring ultra-rare gemstones and pieces that take dozens—if not hundreds—of hours to create. 
Traditionally, the term "high jewelry" meant that each piece was unique, never to be recreated again, and featured exceptional stones in timeless designs. But the genre, where prices can start in the hundreds of thousands, has witnessed some exciting innovation and changes in recent years; now, some high jewelry pieces are meant to be worn every day, not just on formal occasions. Materials as varied as titanium, copper, and iron have been incorporated, and some jewelers now make multiple pieces of the same design. And under Creative Director Claire Choisne, no one pushes the boundaries quite like Boucheron.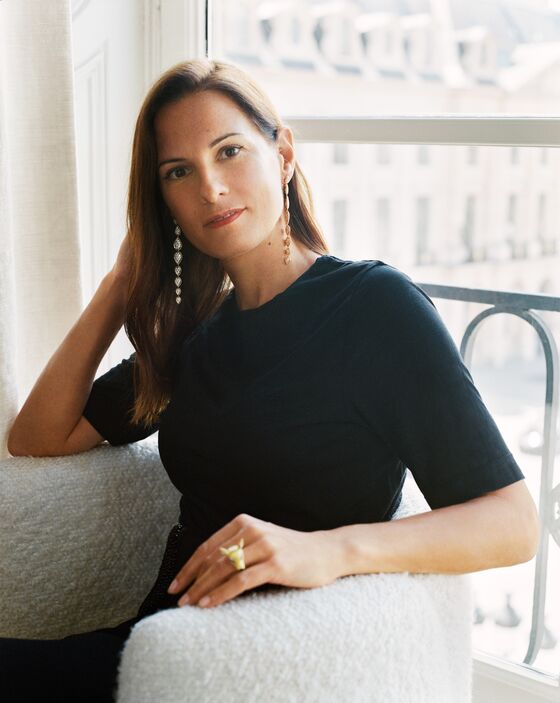 In her July collections, which the house calls Carte Blanche, Choisne's creativity runs wild as she strays from the standard emeralds, rubies, sapphires, and round diamonds. Her modern pieces feature unexpected materials—such as sand, marble, and Space Age aerogel—and innovative designs that embrace new setting techniques, sharp shapes, and collaborations with industrial engineers. Boucheron's newest collection, Holographique, features nine jewelry suites that explore the spectrum of light through flashing opals, colored gemstones, and holographic ceramic and rock crystal.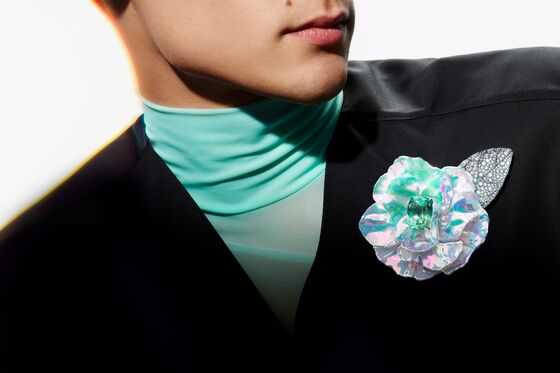 Choisne turned to holographic materials because she wanted to capture a rainbow within the jewelry. But instead of showing the full spectrum of colors by using different stones, she wanted to "have all the colors on all the pieces, and maybe bring some joy," she says. "I wanted a collection that would be positive, full of wonder." 
To achieve this, she turned to a rather unexpected source for pieces that cost six or seven figures: the airport. Boucheron took holographic technology used on landing strip markings on tarmac and applied it to ceramic and rock crystal, creating pieces that aren't one color, but every color at once. She describes them as "a moving rainbow." 
A standout piece in the collection is the one-of-a-kind Holographic necklace. It features diamond-trimmed slices of rock crystal with holographic coating, and it has a 20.21-carat yellow sapphire at the center. The slices act as prisms, so rainbows burst from each slice when light hits them. "It's quite hypnotic, and it's poetic and futuristic at the same time," she says. "I love the idea that if I ask you, 'What color is the necklace?' you won't be able to tell me, because it changes all the time."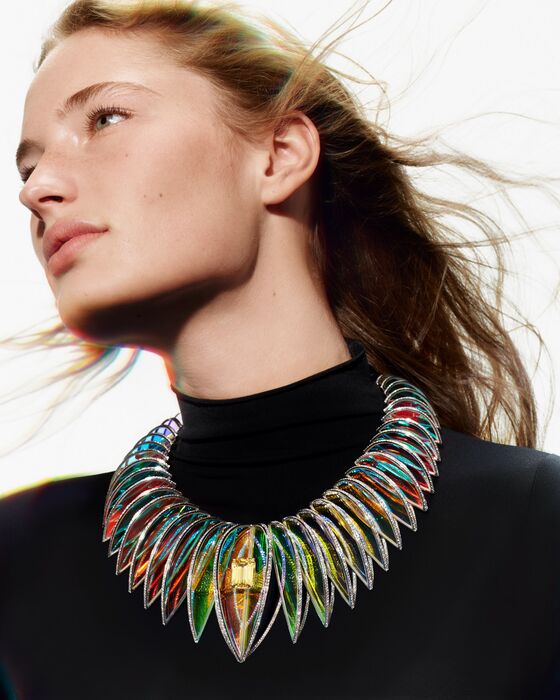 The holographic theme is woven in different ways through the collection (for which prices have yet to be released). The pieces in the Chromatique suite are ultramodern interpretations of classic floral jewelry. First, Boucheron scanned actual peony and pansy petals, then artisans recreated them in ceramic. To achieve the shimmering colors, they sprayed the ceramic with melted metals. The petals are centered around brilliant gemstones in complementing colors. 
A natural exploration of the holographic theme comes in a trio of opal rings. The Illusion rings showcase Australian and Ethiopian opals that have a spectacular play-of-color and hidden settings, surrounded by gemstones that echo the flashes within the opals.
While it might seem unusual that the oldest jewelry house on the Place Vendôme is one of the most avant-garde, innovation has always been at the heart of the 163-year-old maison. The founder, Frédéric Boucheron, was an inventive jewelry designer who pushed the technical boundaries of his time, much as Choisne does today.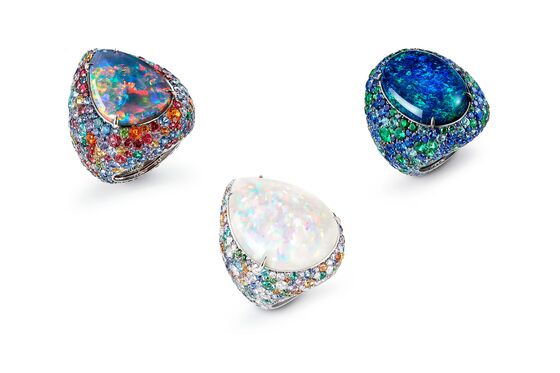 He invented the famed Question Mark necklace, in which a band of flexible metal curves around the neck, eliminating the need for a clasp. It was revolutionary at the time, and it still inspires designers today. Mixing precious stones with more "base" materials is also a hallmark of the house. "He worked also with materials that were not used at the time. For example, you used to mix rock crystal with diamond, and at that time it was really crazy," Choisne says. "Rock crystal is not so precious and diamond, of course, is precious. So to mix both of them was quite strange and innovative." 
Choisne still combines rock crystal and diamonds, a signature of the house, but has looked outside of natural materials for some time. Last year she introduced a necklace featuring an aerogel used by NASA on its Mars rover, which was at the time the most difficult piece Boucheron had ever created. This year's Holographique collection was even more challenging.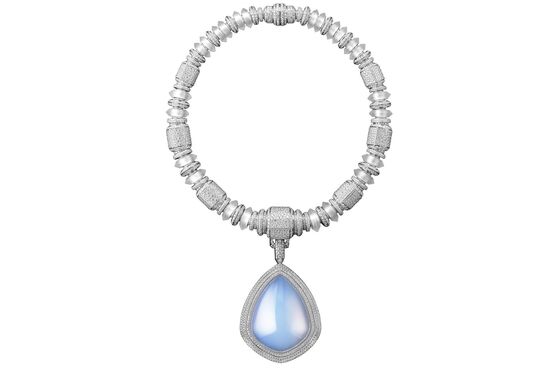 While the goal isn't necessarily to always break the boundaries of jewelry, it's sometimes necessary as Choisne seeks a way to realize her vision. "Innovation, it's not a goal for me," she says. "I start with a concept, with a dream, with an idea that I want to achieve. And then I try to be open-minded to use whatever will help me to achieve this dream. 
"For the aerogel, the idea was really to catch a piece of sky and to encapsulate it on a necklace, and aerogel was the perfect material," she continues. "Of course, it wasn't used for jewelry usually, but the effect of it was really like the sky, so why not?"
Even in the more classic high jewelry collection that Boucheron releases every January, Choisne finds ways to push boundaries. The recent art deco-inspired collection, Histoire de Style, featured unisex jewelry pieces that were shot on male and female models in the campaign. Many of the pieces are transformable—another hallmark of the house. The Cravate Emeraude necklace was inspired by a cravat, and the "tie" is a removable brooch, and the Lavallière necklace has a removable brooch, too. "It's natural on a man and it's natural on a woman," Choisne says. What's more modern than that?