Bonds Tumble in India on Record Government Borrowing Plan
Bonds in India tumbled after the government announced a higher-than-expected budget deficit target.
(Bloomberg) -- India's benchmark bond yields surged to the highest in two and a half years after the government unveiled plans to issue record amount of bonds in the next financial year. 
The selloff was exacerbated as the annual budget announcement lacked widely expected measures to facilitate inclusion of the nation's debt into global bond indexes. Elevated bond sales will worsen debt supply worries in a year when the Reserve Bank of India is expected to wind back on its monetary stimulus. 
"India government bonds are facing a double whammy," said Harish Agarwal a bond trader at FirstRand Bank in Mumbai. "Without any support, the yields are set to jump to 6.95% to 7% in the coming days."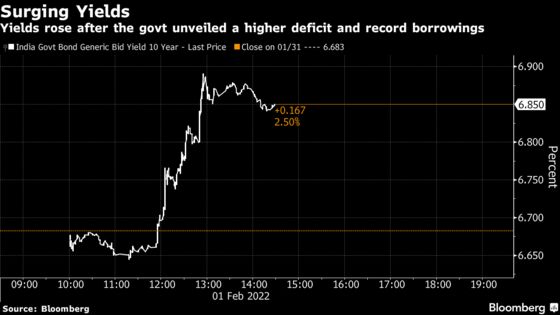 The yield on the benchmark 10-year bond rose as much as 21 basis points to 6.89%, the highest since July 2019. The rupee fell 0.2% to 74.74 per dollar. 
The government's gross borrowing is estimated at about 15 trillion rupees ($200.7 billion) in the fiscal year starting April, according to the budget documents, much higher than 13 trillion rupees forecast in a Bloomberg survey. The target for the current year is 12.06 trillion rupees. Net borrowing, excluding maturities for next year, is estimated at 11.2 trillion rupees. 
The administration also plans to issue sovereign green bonds for the first time as part its market borrowing in 2022-23, Finance Minister Nirmala Sitharaman said in her budget speech on Tuesday. The proceeds will be deployed in public sector projects which will help in reducing the carbon intensity of the economy,  she said.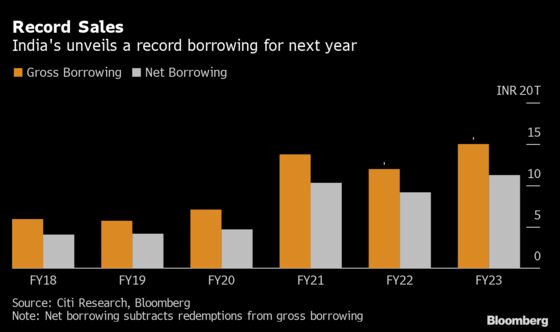 Bond yields have climbed more than 40 basis points in 2022 as the RBI ramps up its liquidity withdrawal in an effort to gradually normalize policy and amid rising global yields. The central bank has also stopped its bond purchases and banks, the biggest buyers are already overstocked, resulting in a demand-supply imbalance. 
"The bond market has now to focus on inflation trajectory and mammoth borrowings next year," said Sandeep Bagla, chief executive at Trust Mutual Fund. "The next big event is the RBI decision and their reaction to the budget."
The central bank will outline its rate decision on Feb. 9.