BOJ Flags Novel Step to Aid Post-Covid Climate Change Moves
BOJ Flags New Step on Climate, Extends Covid Support Program
The Bank of Japan surprised investors by joining other central banks with a measure to combat climate change that shows it already has an eye on the issues facing a post-Covid world.
The central bank's decision Friday to leave interest rates unchanged and extend its support for pandemic-hit firms was widely expected, but most economists considered any move on climate would come after the economy had shown more signs of recovery.
Governor Haruhiko Kuroda first hinted he was was looking at ways to support the battle against global warming through monetary policy in an interview last month with Bloomberg News.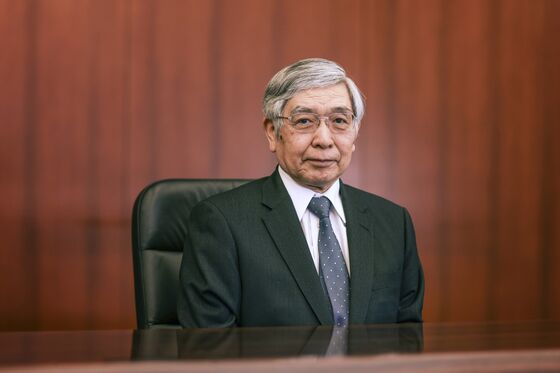 "The BOJ has moved more on climate change than I expected," Masaaki Kanno, chief economist at Sony Financial Holdings and a former BOJ official. "This at least shows that the BOJ is more active than the Federal Reserve on climate."
The BOJ's new initiative will look to spur private-sector efforts to respond to global warming by providing funds for bank lending to climate-friendly businesses. The bank said it would spell out the details of the measure next month and launch it later in the year.
With the step, the BOJ becomes the latest central bank to make a move in recent months toward addressing the post-pandemic world's biggest challenge. Monetary authorities have been mulling the need to help governments and companies with the heavy lifting needed to transition the global economy toward a carbon-neutral future.
Prime Minister Yoshihide Suga has set a goal for Japan to reach net-zero emissions by 2050. The costs involved in making the transition to a greener society will be around $3.2 trillion, according toShunsuke Oshida, head of credit research at Manulife Investment Management.
While the BOJ's move was welcomed by economists, many of them pointed out that with few details, it was still difficult to gauge its likely impact or how it compared with the measures taken overseas. The decision also raises the question of where governments and central banks need to divide their responsibilities, they said.
The move also risks interfering with the allocation of resources, Sony Financial's Kanno warned.
Speaking at a press briefing after the decision, Governor Haruhiko Kuroda stressed the BOJ's intention to take a market-neutral approach.
"We believe the new measures reflect a new approach, in that we avoid as much as possible getting involved at the micro level of resource allocation, while supporting climate change responses through monetary policy," Kuroda said.
Supporting action on climate change would contribute to the longer term stability of the economy, and by extension contribute to price stability and growth, Kuroda added.
The BOJ decision follows a Bank of England announcement last month that it will shift corporate bond purchases toward firms doing the most to fight climate change. ECB President Christine Lagarde has also voiced strong support for transitioning to a greener economy.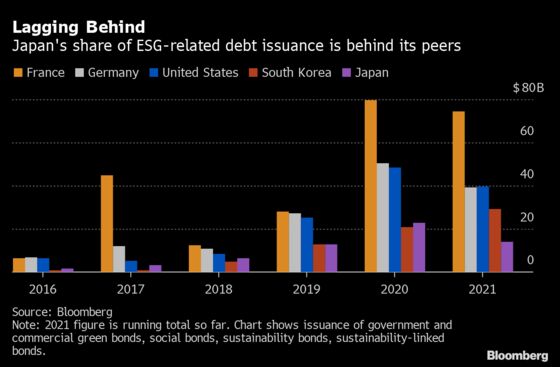 Green bond issuance has rocketed in Europe in recent years and while it is gaining traction in Japan, the country still lags behind its peers. Still, Lagarde has had difficulty trying to forge a consensus on getting the ECB to target green bonds to further spur climate-change efforts.
Kuroda seems even more reluctant to go the way of green bonds. He said the BOJ could already buy them, but it wasn't targeting them. Still, he didn't rule out focusing on green bonds in the future.
"This is a big step, a breakthrough," said Mana Nakazora, chief ESG strategist at BNP Paribas in Tokyo, characterizing the significance of the move for sustainable finance funding in Japan.
But with the measure failing to touch on green and sustainability-linked bonds or their possible use as collateral, the impression remains that Japan is a little behind other countries, she said.
What Bloomberg Economics Says...

"The Bank of Japan isn't taking any chances -- the earlier-than-expected extension of its Covid-related support program shows a determination to keep a prop under the economy... A new climate-related funding program also shows it's looking to manage longer-term risks that will affect its post-Covid approach to policy."

--Yuki Masujima, economist

To read the full report, click here.
In Asia, the People's Bank of China and the Monetary Authority of Singapore are seen leading the way, according to Sonal Varma, economist at Nomura Holdings in Singapore.
"The MAS is working with financial institutions to create a green finance ecosystem," she said. "The PBOC has included green bonds and green credit as eligible collateral in its lending facilities and is looking to grade financial institutions on green bonds."
The BOJ hasn't gone that far, but every step counts in the fight against climate change, she added.
While Friday's decision moves the BOJ a little closer to some of its peers on climate, it is drifting in a different direction on monetary policy.
As the Federal Reserve, the Bank of Canada and other central banks inch closer to reining in stimulus, the BOJ looks likely to continue standing pat on its interest rates and asset purchases.
Kuroda and his colleagues are likely to maintain that cautious stance for the foreseeable future given stubbornly sluggish inflation in Japan that contrasts with price gains seen elsewhere as the world reopens from the pandemic.
A separate report Friday showed Japanese price growth just edging into positive territory in May, even with a surge in gasoline prices.
"I hope they won't use this climate effort to try to deflect attention from their failing progress on inflation," said economist Kyohei Morita at Credit Agricole Securities Asia BV. "This won't bring them any closer to their distant price target and they are probably aware of that."