Boeing Sales Top $100 Billion for First Time
Sales rose across all businesses at the end of the year, pushing annual revenue to $101.1 billion.
(Bloomberg) -- Boeing Co. soared after reporting record cash for 2018 while cracking the $100 billion sales barrier for the first time in its 102 years -- and the U.S. planemaker says the best is yet to come.
Revenue, earnings and cash are all poised to rise this year, building on fourth-quarter earnings that beat estimates, the company said in a statement Wednesday. The lone blemish: Free cash flow of $2.45 billion in the last three months of 2018 missed analysts' estimates.
The upbeat forecast shows that Boeing still sees room for improvement as it works to overcome factory stumbles in its jetliner business and speed output of its cash-cow 737 planes. Boeing and Airbus SE, its European rival, are riding high on a historic sales boom rooted in low interest rates and a growing middle class, particularly in Asia.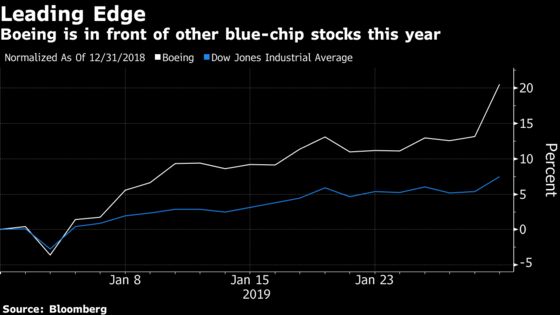 "There's a very strong guide and no hint that there's anything that could derail this," said Ken Herbert, an analyst with Canaccord Genuity.
The shares jumped 6.3 percent to $387.84 at 3:45 p.m. in New York, behind just Apple Inc. on the Dow Jones Industrial Average. Boeing rose 13 percent this year through Tuesday, the third-best performance on the Dow.
Still, executives cautioned that aircraft sales could be tempered by U.S.-China trade tensions and as planners in Beijing chart the country's next five-year economic plan. So far, though, Boeing hasn't been affected by the economic pullback that has clipped Apple, Caterpillar Inc. and other companies.
"We're not without challenges for this company, particularly if China keeps slowing," Bloomberg Intelligence analyst George Ferguson said of Boeing. "But what we've got right now for 2019 looks like a good year."
All of Boeing's main businesses posted double-digit sales increases in the fourth quarter, and the company expects the momentum to continue into this year. While the shares have gyrated in response to trade tensions between Beijing and Washington, Boeing is still seen as a safe haven for its $490 billion backlog of unfilled orders.
The company has become an investor favorite for its prodigious cash generation, which it passes on to shareholders. Over the last five years, Boeing has repurchased 205 million shares, increased its dividend 180 percent and invested $35 billion in its business.
Revenue will climb to at least $109.5 billion this year, up from $101.1 billion in 2018 and higher than analysts predicted. Operating cash flow will be as much as $17.5 billion, about $2 billion more than 2018's record stash.
Cash will be bolstered by improved 787 profit, higher 737 output and improved finances for the KC-46 tanker as more planes are handed off to the U.S. Air Force, Boeing Chief Financial Officer Greg Smith told analysts during a conference call.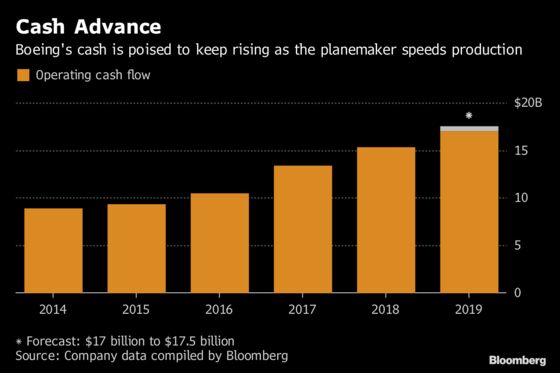 While a typical build-up in inventory ahead of initial delivery for the 777X may drag on results, Boeing isn't expected to step up spending on its next new aircraft after that twin-engine behemoth, just yet. The company plans to approach the board for authority to offer a midrange plane nicknamed the "797" this year, said Chief Executive Officer Dennis Muilenburg. That would be the first step toward a formal launch in 2020.
The Chicago-based manufacturer sold more commercial aircraft than it made in 2018, tallying 893 orders with a value of $143.7 billion. Repeating that performance this year will be tougher as the company targets delivering a record 895 to 905 jetliners while navigating a global economy fraught with geopolitical risk.
Boeing also has contended with parts shortages and costly out-of-sequence work in its jetliner factories. The company delivered 806 aircraft last year, short of its target for 810 to 815, despite working deep into the year-end holidays to overcome shortages of engines and other components.
This year, Boeing is looking to increase output of its 737 aircraft by almost 10 percent while boosting production of the 787 Dreamliner. Despite earlier execution issues, the commercial jet division posted an unexpectedly high profit margin of 15.6 percent in the fourth quarter, up four percentage points from a year earlier.
Muilenburg has targeted mid-teens profit margins for the main businesses as the company works to run its factories more efficiently. The jetliner division should get an added boost from an internal accounting change this year, when Boeing will begin booking all sales and expenses for military derivative jets with the defense unit.
Bringing suppliers along for the ride to higher jetliner production will be challenging, particularly as engine makers cope with parts shortages of their own. But there were signs of progress in the late push to get back on schedule. Boeing delivered 51 of its upgraded 737 Max jetliners in December and 111 of the jets in the fourth quarter.
"We're going to be very, very disciplined about ensuring supply-chain health before we fully move to the 57-a-month production rate," Muilenburg said of the 737's suppliers.
To contact the reporter on this story: Julie Johnsson in Chicago at jjohnsson@bloomberg.net
To contact the editors responsible for this story: Brendan Case at bcase4@bloomberg.net, Tony Robinson