BNP Paribas Stock Trades Lost About $200 Million in Virus Rout
(Bloomberg) -- BNP Paribas SA, the biggest French lender, lost hundreds of millions of dollars on complex stock trades as the spreading coronavirus triggered market turmoil in the first quarter.
Traders at the Paris-based lender lost an estimated 200 million euros ($219 million) on equity derivatives, according to people familiar with the matter. The trades that went awry included dividend futures and structured products, said the people, who requested anonymity as details aren't public. Such complex transactions had been a forte of the French banks.
The losses highlight the varying fortunes of trading desks during the wild market swings in March, as the deadly virus ushered in widespread curbs on people's movements and upended the global economy. Winners from the turmoil have included U.S. rivals JPMorgan Chase & Co. and Citigroup Inc., which added hundreds of millions of dollars in revenue from equity derivatives as investors rushed to trade through the market panic.
Alexandra Umpleby, a spokeswoman for BNP Paribas in London, declined to comment.
BNP Paribas, overseen by Chief Executive Officer Jean-Laurent Bonnafe, lost about 100 million euros on structured products, the people said. These trades, popular among retail investors across Japan and South Korea, are linked to baskets of stocks and other assets. However, they frequently inflict losses on the banks that arrange them.
The bank also lost about 100 million euros on dividend futures for the quarter, the people said. The losses had surged at one point to about 300 million euros before improving, according to the people.
Dividend futures are derivatives that investors use to speculate on the payouts that companies make to shareholders. They have tumbled to historic lows in recent weeks as some of the world's biggest corporations shred their awards in response to the coronavirus and, in some industries, pressure from regulators.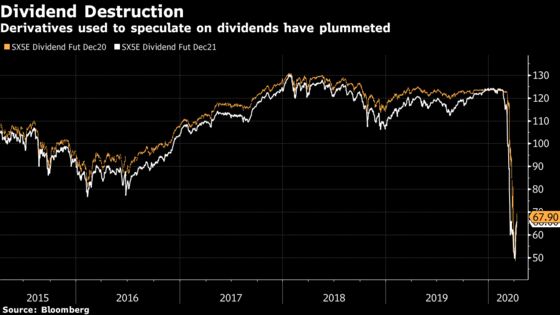 BNP Paribas and crosstown rival Societe Generale SA are among the bigger players in arranging dividend futures, according to a note published Thursday by JPMorgan Chase & Co. analyst Kian Abouhossein. Banks in this business are often "structurally long dividends," he wrote, meaning they are betting on an increase in payouts and "exposed to a decline in dividend expectations."
The bank's equity-derivatives unit sits within an equities business that also deals in common stocks and provides services to hedge funds. The overall division made about 2 billion euros in revenue during 2019, according to a Feb. 5 presentation.
It's unclear how much the losses will weigh on BNP Paribas's overall first-quarter results. Banks taking a hit on dividend futures could likely offset them with gains elsewhere, Abouhossein wrote. He estimated that overall equities revenue at BNP Paribas could climb 13% year-on-year to 550 million euros.