BNP's Debt Trading Disaster Leaves Bonnafe's Goals in Doubt
(Bloomberg) -- Jean-Laurent Bonnafe has given himself three years to expand revenue at BNP Paribas SA. Almost halfway through, that pledge is increasingly in doubt.
The bank on Tuesday reported the sixth straight decline in its key fixed-income trading business, with a 15 percent slump that matched the disastrous results at Deutsche Bank AG. The third-quarter figures add to evidence that most of Europe's investment banks are still struggling to grow amid record low interest rates, the prospect of trade wars and Italy's budget woes. BNP Paribas is now facing the risk of a second annual contraction.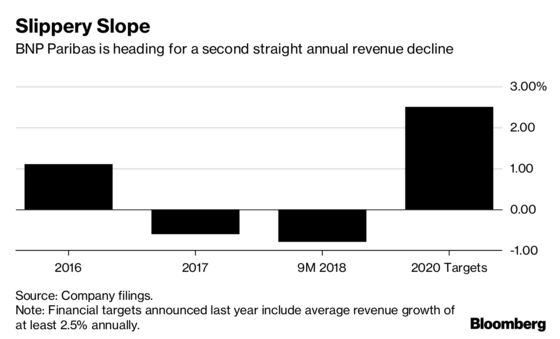 "Revenue growth has clearly been more challenging than what they had initially expected," said Jonathan Fearon, who helps manage some $19 billion of European equities at Aberdeen Standard Investments. "There is more margin pressure around and the markets business hasn't had the jump that they would have hoped for, despite lots of investments in growth."
Despite efforts to expand in Germany and the U.S., BNP Chief Executive Officer Bonnafe has been unable to revive the investment bank, a business he's relying on to make his revenue goal. Gains from equities trading were lower than analysts had expected. The global markets business had its second-worst quarterly revenue since early 2016.
BNP shares declined as much as 4.6 percent in Paris and were trading 3.7 percent lower at 45.74 euros as of 4:38 p.m. local time. The stock has lost about a quarter of its value this year, in line with an industry being hurt by sustained low rates and political uncertainty.
While BNP's Italian unit showed some resilience -- pretax profit, loans and deposits rose at Rome-based BNL -- retail revenue slumped about 8 percent.
"Disastrous Italian revenue, and no turnaround in French retail, are two other major concerns that management is struggling with," Bloomberg Intelligence analysts Jonathan Tyce and Georgi Gunchev wrote. "Weak FICC trading and sub-peer equities performance must be turned around."
The results were particularly disappointing given the company said not long ago that it may exceed its 2020 return-on-equity target. Now, with most of 2018 over, some key metrics are looking increasingly challenging. Over the first nine months, return on equity -- a measure of profitability -- fell to 9.5 percent from 10 percent a year earlier. Total revenue dropped 0.8 percent, a far cry from BNP's target for annual growth of at least 2.5 percent.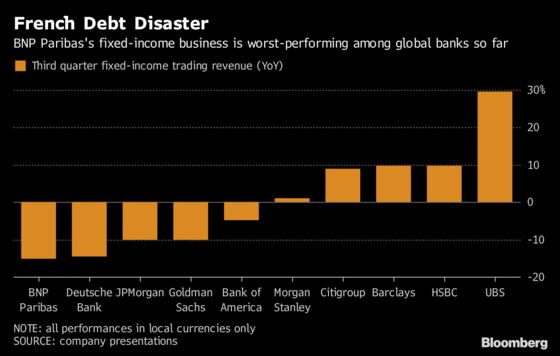 BNP Paribas will give an update on how much progress it has made in meeting its 2020 targets when it announces annual results in February, Chief Financial Officer Lars Machenil told analysts on a call. He reiterated the group's target for 10 percent return on equity.
A rebound in French retail banking revenue will start this quarter and continue next year, Machenil also said in an interview on Bloomberg Television. Even so, he struck a relatively cautious tone on the outlook for the corporate and institutional banking unit.
"If there are moments with less or more demand, that's fine" for investment-banking activities, Machenil said. BNP can efficiently adapt its resources to demand levels to serve clients because "the important thing for us and the focus is to do this in a profitable way."
BNP Paribas is seeking to expand its investment bank in countries including the U.S. and Germany. While it has so far shunned large M&A, it has made targeted acquisitions in markets such as Poland and freed up cash by reducing its stake in First Hawaiian Inc., also boosting the bank's CET1 ratio -- a measure of financial strength -- near to its target level.
BNP Paribas earlier this month promoted investment banking head Yann Gerardin to become one of its four deputy chief operating officers, making him a potential successor to Bonnafe.
The bank posted a one-time gain of about 286 million euros in the quarter related to the First Hawaiian Bank stake sale. While net income came in slightly ahead of analyst estimates and higher than a year earlier, the bank said that it was stable excluding exceptional items.
Below, some other highlights from BNP's third-quarter earnings:

Net income of 2.12 billion euros versus estimates for 2.04 billion euros
Revenue of 10.35 billion euros versus forecasts for 10.55 billion euros
Trading revenue of 1.13 billion euros versus estimates for 1.19 billion
FICC trading of 680 million euros was in line with estimates
To contact the reporter on this story: Fabio Benedetti-Valentini in Paris at fabiobv@bloomberg.net
To contact the editors responsible for this story: Dale Crofts at dcrofts@bloomberg.net, Andrew Blackman