Blue Owl Capital Plans London IPO of Dyal Assets
(Bloomberg) -- Blue Owl Capital Inc. is planning to list assets from its Dyal Capital Partners business worth more than $10 billion in a rare sizable initial public offering in the U.K., according to people familiar with the matter.
The investment firm is working with Bank of America Corp., Goldman Sachs Group Inc. and JPMorgan Chase & Co. on a listing in the first half, the people said, asking not to be identified because talks are private. 
Dyal buys stakes in money managers, competing with businesses including Blackstone Group Inc. Its investments have included some of the most prominent private asset firms, such as Silver Lake and Robert Smith's Vista Equity Partners, which have each multiplied in size since Dyal bought in. Stakes in each of those firms will be included in the deal, offering investors a rare chance to gain exposure to privately-held buyout firms.
The listed vehicle could be almost double the size of Goldman Sachs's Petershill Partners Plc, a similar business that was valued at about 4 billion pounds ($5.3 billion) when it listed in September. Petershill -- set up in 2007 to acquire minority positions in private equity, hedge funds, and other alternative managers -- has declined by almost half since raising more than 1 billion pounds in the IPO.
The new Dyal vehicle will house stakes in about 18 firms, including Dragoneer Investment Group, Barry Sternlicht's Starwood Capital and HIG Capital, according to the people. It may also include credit, technology and software assets. Blue Owl is considering selling about 10% of the vehicle to new investors, while keeping the rest, the people said. 
Deliberations are ongoing and the exact timing and structure could change, depending on the market and geopolitical environment. Representatives for Bank of America, Blue Owl, Goldman Sachs and JPMorgan declined to comment.
Blue Owl, formed through a merger of Dyal Capital Partners and Owl Rock Capital, would likely place assets including some of Dyal's minority stakes in private equity firms in the vehicle, the people said. Blue Owl, which listed in New York through a special purpose acquisition company, manages about $94 billion in assets covering money managers, private credit and real estate.  
In October, it agreed to buy Oak Street Real Estate Capital for as much as $1.6 billion to add the property business to its existing private capital operations.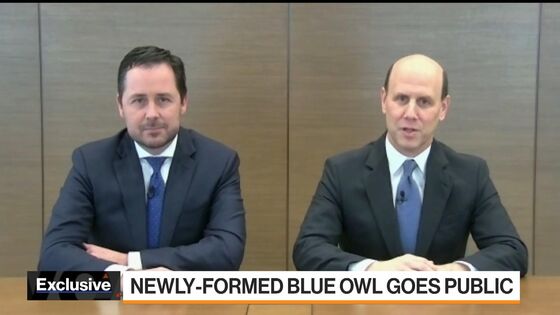 If the IPO goes ahead, it would mark a rare bright spot for the London market. At $285 million, the U.K. capital's haul is a fraction of the $4.5 billion that companies had raised at this point a year ago, data compiled by Bloomberg show. 
Stock markets have been roiled by Russia's invasion of Ukraine, as well as rising inflation and interest rates, making any IPOs a gutsy move. Olam International Ltd. is another company looking to brave the London market with a plan to list its food unit, which could be valued at 13 billion pounds, in the first half.