Blue Apron Shares Tumble on Decline in Revenue, Customers
(Bloomberg) -- Blue Apron Holdings Inc. shares tumbled the most ever after the meal-kit company reported a decline in customers and projected further deterioration in revenue this year, underscoring the struggle to hit its stride since last year's initial public offering.
The New York-based company said customers fell 24 percent in the second quarter, reversing gains made in the previous period. The number of people purchasing its signature boxes of food to make home-cooked meals dropped 9 percent from the first quarter to 717,000. The average order value also dipped from a year earlier to $57.34.
Fewer customers led to a 25 percent decrease in revenue for the period ending June 30. Blue Apron reported $179.6 million in sales, missing even the lowest analyst estimate, according to data compiled by Bloomberg. The company's loss also widened to $32.8 million, or 17 cents a share.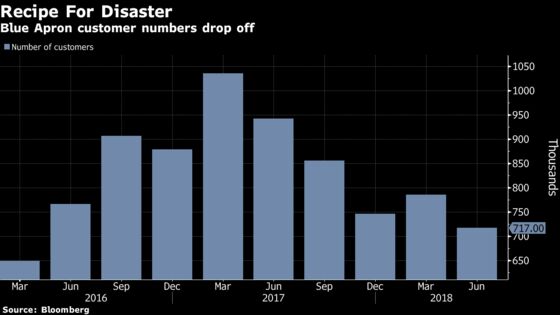 Blue Apron was one of the early pioneers in the meal-kit market, but an ill-timed IPO, coming on the heels of Amazon.com Inc.'s purchase of Whole Foods, and competition from Berlin-based service HelloFresh, which boasts a customer base of about 1.88 million, have put pressure on customer acquisition costs. The company also had problems at its fulfillment center, which was plagued by delays.
The shares fell as much as 24 percent in New York Thursday to $1.85. It was the biggest drop since the company's June 2017 IPO.
Blue Apron Chief Executive Officer Brad Dickerson called 2018 "a year of transition and building for the future." On a conference call to discuss earnings, Blue Apron said it expects revenue of $150 million to $160 million in the third quarter, which would mark as much as a 29 percent decline from the year-earlier period. Analysts' had been expecting $204.3 million.
"With fulfillment center operations strengthening, we are increasing focus on the priorities we expect will propel revenue performance and return the business to a growth trajectory," said Dickerson, who took over late last year.
In the coming months, Blue Apron plans to expand its direct-to-consumer offerings through new channels, Dickerson said. The company will test on-demand delivery via its own e-commerce platform and third-party delivery partners, beginning on the East and West coasts. The company recently signed a new multiyear contract with FedEx Corp., its largest transportation and logistics provider, which will "increase efficiencies in much of our last-mile delivery network," Dickerson said.
He reaffirmed Blue Apron's goal of achieving double-digit revenue growth and break-even adjusted EBITDA for 2019 while acknowledging that "this milestone will not be easy."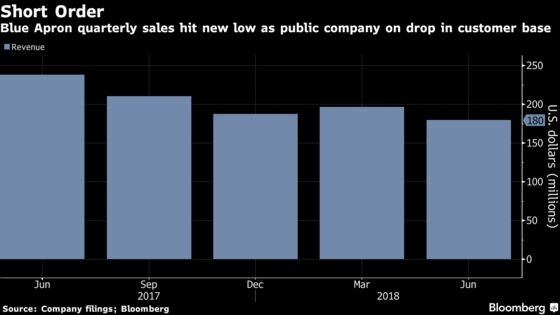 This fall, Blue Apron plans to introduce recipes that can be prepared more quickly than its current offerings, as well as meals that comply with Whole30 clean-eating guidelines. The company first introduced an eight-week partnership with Whole30 in January. Dickerson also announced that Blue Apron's meal-kits are now available in about 80 Costco Wholesale Corp. locations, after launching a pilot program with the warehouse store in May.
Blue Apron introduced new partnerships in the second quarter with high-profile names including social-media influencer Chrissy Teigen, Airbnb Inc. and the James Beard Foundation. The company also strengthened its executive team with the appointment of Tim Bensley, formerly CFO at Acosta Sales & Marketing Corp., as chief financial officer, and Alan Blake as chief supply chain officer.
--With assistance from Karen Lin and Iris Zambrowski.
To contact the reporter on this story: Emily McCormick in New York at emccormick14@bloomberg.net
To contact the editors responsible for this story: Jillian Ward at jward56@bloomberg.net, Molly Schuetz, Giles Turner