Blackstone Exits Hilton, Earning $14 Billion After 11 Years
Blackstone Is Said to Plan Sale of Remaining Stake in Hilton
(Bloomberg) -- Blackstone Group LP is finally checking out of Hilton.
The hotel company's largest investor agreed to sell 15.8 million shares, valued at about $1.3 billion, the last of its Hilton Worldwide Holdings Inc. holdings. With the exit, Blackstone will realize some $14 billion of profit, meaning the firm has more than tripled its initial investment.
The sale will bring to an end an 11-year relationship of highs and lows that ended up as the most-profitable private equity deal on record. Blackstone took the hotel behemoth private in 2007, with the firm's real estate and private equity funds and some co-investors putting up $6.5 billion of equity. The firm later wrote down the investment by about 70 percent during the financial crisis, then put in more cash and restructured Hilton's debt before taking the company public again in late 2013. Hilton shares have since more than doubled in value.
Blackstone President Jonathan Gray, who until recently was head of the firm's real estate arm and put together the Hilton deal, will remain chairman of the McLean, Virginia-based hotel company, led by Chief Executive Officer Christopher Nassetta, and has no immediate plans to relinquish the role even with the share sale.
"This was initially a very difficult investment, but Chris was a terrific leader," Gray said in an interview. "The steep revenue declines could have easily dissuaded us, but the continued commitment of the entire firm paid off in a big way. We saw a ton of white space in Europe and China for this company, and our thesis held together through the crisis and that's what gave us confidence."
The bet could have turned out very differently. Blackstone began pursuing Hilton in 2006, internally naming the transaction Project Murphy after actor Eddie Murphy, who starred in the 1984 movie "Beverly Hills Cop." (Hilton was then headquartered in Beverly Hills, California.) The deal, agreed to in mid-2007 and financed by Bear Stearns, was 80 percent leveraged. As a result of the crisis, global revenue fell 20 percent and earnings before interest, taxes, depreciation and amortization sank 40 percent within the first 18 months of Blackstone's ownership.
Nassetta on Friday recalled a conversation he had during the depths of the recession with Gray, who he first met in the early 1990s while working on a deal for a troubled life-insurance company in New Jersey.
"No two people had more at stake than he and I," Nassetta said in an interview. "But we had every confidence we'd get through it and prove naysayers wrong, which we have."
Following its restructure and IPO, Hilton's performance as a publicly traded company has been driven by a number of factors, including organic growth. Under Blackstone's stewardship, the number of hotel rooms in its systems has almost doubled to 900,000, and there are 350,000 more in its pipeline. The company also launched new brands to capture more customers, including Curio, Tru, Canopy, Tapestry and Home2.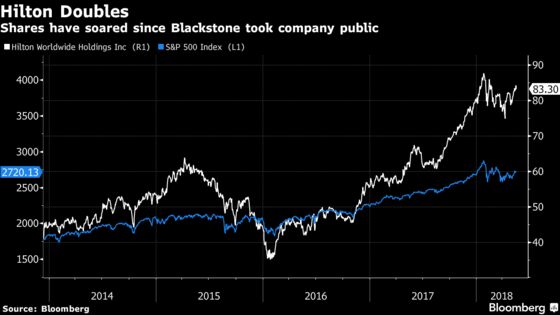 There also have been some lucrative real estate deals, including the sale of the Waldorf Astoria hotel in New York for $1.95 billion in 2015. Hilton sought to create shareholder value as well by spinning off its owned real estate unit, Park Hotels & Resorts Inc., and its timeshare business, Hilton Grand Vacations Inc.
"Often, success in private equity is attributed to financial engineering, but the Hilton transaction shows that isn't the case," Gray said.
Including its final share sale, Blackstone will have executed 12 separate transactions to gradually sell off its Hilton holdings since 2014, including a 25 percent stake sale to HNA Group Co. in March 2017. The Chinese firm, to combat deep indebtedness, recently sold its holdings. HNA made a profit of roughly $2 billion from its Hilton investment, Bloomberg has previously reported.
As part of the transaction announced Friday, Hilton plans to buy 1.25 million shares from Blackstone. The shares were trading at $83.57 at 12:18 p.m. in New York.
Blackstone and its investors aren't alone in benefiting from the hotel company's turnaround. Nassetta has Hilton stock valued at roughly $250 million, and said he has yet to sell a share in the company or its spinoffs.
Blackstone and its rival alternative-asset managers have increasingly been accumulating longer-term capital for investments that can span as long as two decades. But in hindsight, Gray believes the hotel company wouldn't have found itself in a longer-term fund if one was available at the time.
"Our motto for Blackstone real estate is buy it, fix it, sell it, and Hilton really fell into that as a company we felt we could transform," Gray said.
While it's hard to imagine that Blackstone can recreate the success it has had with Hilton, Gray is optimistic.
"I think it'll be hard to top," he said "But you never know what the future will bring and we continue to identify large-scale transactions where there are opportunities to create value."
To contact the reporter on this story: Gillian Tan in New York at gtan129@bloomberg.net
To contact the editors responsible for this story: Daniel Taub at dtaub@bloomberg.net, Christine Maurus