Indiabulls Housing Falls After Founder Sells to Blackstone
Sameer Gehlaut, who founded Indiabulls Housing 16 years ago, will sell roughly 11% to the firms in an initial tranche.
(Bloomberg) -- Indiabulls Housing Finance Ltd.'s shares slid after founder firms sold about half their stake in the shadow lender to investors led by Blackstone Group Inc. and Abu Dhabi Investment Authority.
The financier's shares ended down 8.2% in Mumbai Friday, recovering some of its intraday losses when it fell the most since September last year. India's benchmark index closed 1.5% lower.
Sameer Gehlaut, who founded Indiabulls Housing 21 years ago, and his firms sold 11.9% in the company, bringing down their ownership to 9.8%, according to an exchange filing late Thursday. Gehlaut will resign from the board of the lender by the end of the fiscal year ending March 31.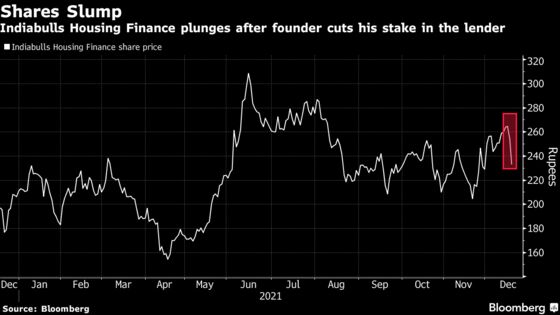 Blackstone bought 2.27% stake, Abu Dhabi Investment Authority bought 1.25% stake, according to National Stock Exchange of India Ltd. data. Morgan Stanley and Invesco Mutual Fund are among other investors in the deal.
The deal is valued at about 14 billion rupees ($184 million) based on Indiabulls Housing's market value as of Thursday, according to data compiled by Bloomberg.
Indiabulls Housing, a leading mortgage lender with a loan book of about 640 billion rupees, has been facing investor scrutiny since the collapse of IL&FS Group in 2018, which triggered a prolonged credit market crisis that led to defaults by more than five non-bank lenders.