Bitcoin Is Below $7,000 But Novogratz Stays Long, Shorts Stocks
(Bloomberg) -- Famed investor Mike Novogratz says this is the time for Bitcoin, citing greater adoption around the globe and unprecedented actions by central banks battling the fallout from the spreading coronavirus.
"The risk on any store of value, if it's gold, is that enough people believe in it," Novogratz said in a Bloomberg TV interview. "It's still a question of adoption. I'm just seeing more adoption here in the U.S. and in Europe than I have literally since I started this."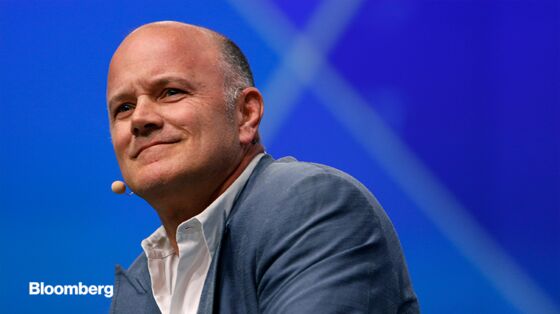 The chief executive officer of Galaxy Digital Holdings Ltd., who became intrigued by the cryptocurrency after its introduction more than a decade ago, says he's noticed new investors, including hedge funds and high-net worth individuals buying.
Bitcoin was down 5.4% as of 10:31 a.m. in New York Monday to around $6,739. Peer coins, including Litecoin and XRP also fell, with each dropping more than 5%.
Extraordinary actions by central banks -- not just in the U.S. but globally -- make hard assets more appealing in the long-run, he said. And Bitcoin's upcoming halving -- a periodic event that alters the payout to the computer networks that process transactions -- could prevent inflation from eroding its value and is another positive. "This is the time for Bitcoin."
Cryptocurrencies have been under pressure this year as investors fled riskier assets amid the coronavirus pandemic. Bitcoin has lost more than 6% since the start of the year.
But while the billionaire investor remains optimistic about Bitcoin, he's changed his tune on equities and credit markets, citing the Federal Reserve's latest round of emergency measures, including a pledge to provide support to risky corners of financial markets.
"I got short Friday for the first time in a while -- both stocks and credit," said Novogratz.