Bitcoin Snaps Slide With Biggest One-Day Gain Since November
(Bloomberg) -- Bitcoin rose the most in more than a month, briefly climbing back above $49,000 for the first time in five days, amid a general rebound in risk sentiment. 
The largest cryptocurrency by market value gained as much as 5% to $49,331 in New York trading before paring the increase. Bitcoin had slumped about 30% over the past five weeks after setting a record high of almost $69,000 in early November. 
Bitcoin may have put in a bottom in the midst of an enduring bull market, mirroring the recent crude oil peak, according to Mike McGlone, a commodities strategist for Bloomberg Intelligence. Showing divergent strength, the crypto was the standout and most significant major macroeconomic asset that advanced on Dec. 20, he wrote.  
"The (earlier) 2% Bitcoin future gain on the day the S&P 500 dropped 1% solidifies the recent crypto low around $45,000 as pivotal support," McGlone wrote in a research note.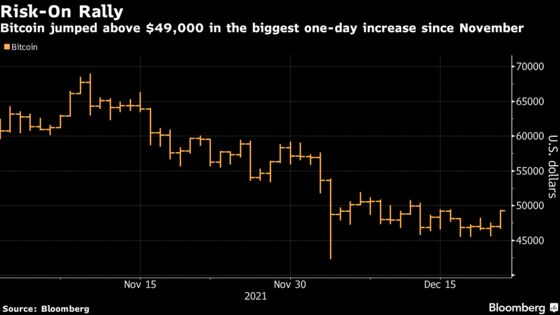 Markets have whipsawed investors in recent weeks as traders assess economic risks from the coronavirus and a hawkish Federal Reserve pivot.