Birkenstock Adds Rare Default Protection Clause in Bond Deal
Birkenstock Adds Rare Default Protection Clause in Bond Deal
(Bloomberg) -- German Sandal maker Birkenstock has included a rare term in its debt documents to protect itself from hedge funds who might be tempted to take it down to collect compensation.
The provision makes it harder for investors holding net short positions with credit default swaps contracts to trigger a default or accelerate one. It's only the second instance of a company including such a term in Europe, following theme-park operator Merlin Entertainments' debt deal more than a year ago.
Investors have been lining up this year for juicier returns in a low rates environment, allowing companies that have performed well, such as Birkenstock, to get very favorable conditions when issuing debt.
Birkenstock is marketing 430 million euros ($519 million) of notes that, together with a $892 million term loan, will be used mostly to fund the acquisition of a majority stake in the company by L Catterton, the private equity firm backed by French fashion house LVMH.
"The terms are aggressive, and perhaps the sponsor is looking to set a precedent for any further deals in Europe," said CreditSights senior analyst Neill Keaney, referring to the overall deal.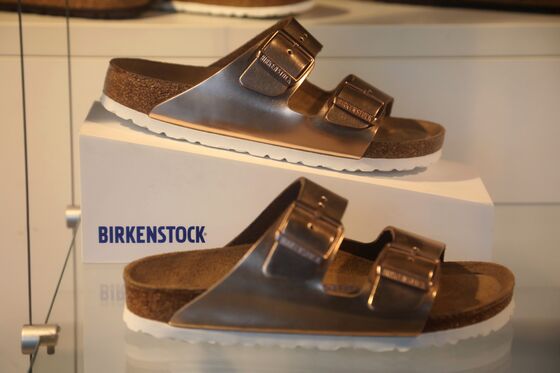 The likes of Birkenstock's protective clause are still relatively rare for European issuers. Such provisions were included by some borrowers after the collapse of U.S. telecom services provider Windstream Holdings Inc. in 2019, when one of its creditors sued the company for defaulting on its notes in relation to some asset sales backing the investment.
Loan transactions that spur defaults have gained traction in recent years, prompting fierce debate in the credit derivatives market. Blackstone Group Inc.-owned GSO Capital Partners, now known as Blackstone Credit, entered agreements that led to the controversial defaults of U.S. homebuilder Hovnanian Enterprises Inc. in 2017 and Spanish gaming firm Codere SA in 2013, both involving CDS contracts.
Notably, Blackstone-backed Merlin Entertainments, became the first European company to seek protection against such scenarios by introducing net short positions limitations two years ago. It was followed by data and analytics firm Kantar, which initially included a protection of that sort, but removed it following objections from investors.
U.S. law firm Kirkland & Ellis advised in Merlin Entertainment, Kantar and Birkenstock's debt deals.
Representatives for L Catterton declined to comment, while representatives for Birkenstock and Kirkland & Ellis did not reply to requests for comment.
Birkenstock's bond offering includes features that are more meaningful for "long-only" investors, such as the amount of debt the company can incur or its ability to use proceeds from asset sales to pay dividends.
"Typically you have some flexibility in the documents about satisfying a specific leverage ratio, whereas in this deal you just have to make sure you don't make it any worse," said Steven Hunter, founder of analytics firm 9Fin Ltd.
Founded in 1774, Birkenstock's fans include celebrities such as models Kendall Jenner, Heidi Klum and Gigi Hadid, as well as actors Leonardo DiCaprio and Jason Momoa, according to the bond documents seen by Bloomberg. None get paid to wear Birkenstock products.