Big Pharma Will Target Smaller Deals in 2020, JPMorgan Predicts
(Bloomberg) -- Big U.S. drugmakers made some splashy deals over the past year, with Bristol-Myers Squibb Co. snapping up Celgene for more than $70 billion and AbbVie Inc. agreeing to take over Allergan Plc for more than $60 billion.
But analysts from JPMorgan Chase & Co. expect that in 2020, the industry's biggest players could take things down a notch.
Pharmaceutical giants still face many of the same forces that compelled them to go out hunting for big tie-ups in 2019 -- most notably the threat of new competition, as several top-selling drugs draw nearer to losing patent protection. This year, the shares of many big drugmakers have trailed the broader market, while smaller biotechnology companies have continued to enjoy sizable gains.
That's likely to increase the appetite of pharmaceutical executives for so-called bolt-on acquisitions, analysts led by Chris Schott wrote in a note to investors.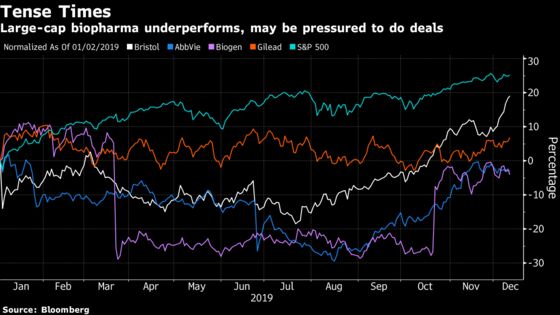 Already, there are signs that pharma companies and their bankers might be content to pay a rich tab for a smaller main course. This week, Merck & Co. agreed to buy ArQule Inc. and Sanofi reached a deal for Synthorx Inc. in pacts that valued the small cancer-drug makers at weighty premiums, with each fetching more than twice their prior trading day's closes.
A shift to smaller deals could help keep up 2019's frenetic pace of mergers, even if it brings down the average price of a transaction. While the overall number of drug-industry deals over $1 billion this year was steady when compared with 2018, the average size increased to $16 billion from $13 billion a year earlier, by JPMorgan's calculations.
This January C-suite executives, bankers and investors will gather in San Francisco for JPMorgan's annual health-care conference, which is often used as a platform to announce new deals.
While bank analysts often try to predict the path of M&A for the sector, some forecasts are more prescient than others. In January Bank of America Merrill Lynch analysts told Wall Street "mega M&A unlikely" -- right before Bristol's mega-deal for Celgene was unveiled.
To contact the reporter on this story: Cristin Flanagan in New York at cflanagan1@bloomberg.net
To contact the editors responsible for this story: Catherine Larkin at clarkin4@bloomberg.net, Timothy Annett, Mark Schoifet