Biden Sharpens GOP Attack, Assailing Senator Scott's 'MAGA Agenda'
(Bloomberg) -- President Joe Biden called again for Congress to raise taxes on corporations and the wealthy to drive down the deficit, while sharpening his criticism of Republican economic policies, declaring they amount to a "MAGA agenda."
In remarks at the White House on Wednesday ahead of a significant interest-rate hike by the Federal Reserve, Biden broadly painted GOP proposals as in-line with the Make America Great Again ethos championed by former President Donald Trump. 
The president has sought to sharpen contrasts between Republican plans and his own stalled economic agenda six months ahead of November midterm elections that will decide control of Congress for the final two years of his first term.
"It's a MAGA agenda. Meanwhile, millionaires and billionaires and corporations skate by," Biden said Wednesday, targeting a proposal by Florida Senator Rick Scott, who chairs Senate Republicans' campaign organization.
"Imagine that. Just imagine that. I think it is truly outrageous," Biden added.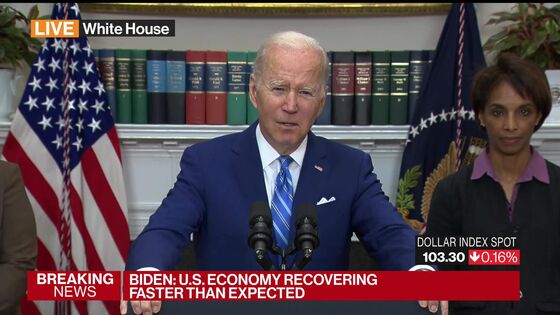 Scott has proposed requiring that all Americans pay some income tax "to have skin in the game, even if a small amount." That would hit the approximately half of Americans whose income is currently too low to be federally taxed.
The senator has also proposed ending all federal laws after five years unless they're reauthorized by Congress, potentially including entitlements such as Medicare and Social Security, and eliminate any federal function that can be done by local government.
The White House has tried to spotlight Scott's plan as emblematic of the GOP approach, even though other top Republicans including Senate Majority Leader Mitch McConnell have distanced themselves from it. Biden said Scott's proposal would raise taxes for 75 million American families, more than 95% of which earn less than $100,000 a year.
"It's extreme, as most MAGA things are," Biden said.
Biden touted his own economic policies, which he credited for a $350 billion reduction in the deficit during his first year in office. 
"Looking ahead, I have a plan to reduce the deficit even more, which will help reduce inflationary pressures and lower everyone's costs," he said, citing elements of his stalled "Build Back Better" economic legislation.
Scott called Biden "a liar & a failed president" in a tweet after the president's remarks.
"Democrats want higher taxes, more debt, abortion-on-demand & zero accountability," he added. "While Biden blabbers on at the White House, I'll keep fighting to rescue America from his radical agenda."
Biden spoke hours before the Fed announced it would increase its benchmark interest rate by a half percentage point, the most since 2000, and begin scaling back its nearly $9 trillion balance sheet next month. Together, the moves are the most aggressive tightening of monetary policy in decades, aimed at combating the highest inflation the U.S. has seen in 40 years.
The White House shifted the timing of Biden's remarks from 2 p.m. to 11 a.m. on Wednesday to avoid conflicting with the Fed announcement.
The president also spoke a day after several Trump-backed candidates -- including venture capitalist JD Vance -- won Republican primary contests Tuesday. Vance staged a come-from-behind victory in a crowded Republican primary for a U.S. Senate seat in Ohio.
As prices of gasoline, food and other consumer goods have increased, Biden has increasingly stressed deficit reduction while trying to blame inflation on Russian President Vladimir Putin's invasion of Ukraine. 
The White House's focus on the deficit is targeted at West Virginia Senator Joe Manchin and other moderate Democrats whose support is key to Biden's economic agenda. 
Manchin blocked "Build Back Better" in December and has insisted that any revised plan -- including higher corporate taxes, climate-change measures and prescription drug reform  -- must cut the deficit.
The administration projects the deficit will fall by more than $1.5 trillion this year.
Meanwhile, Biden is pressing Congress to provide $33 billion more for Ukraine's fight against Russia's invasion, in addition to $22.5 billion he previously requested for continued purchases of vaccines and therapeutics to combat the Covid-19 pandemic.
Lawmakers failed to strike an agreement on Covid funding earlier this year, and the administration has said money is running short.