EU, U.K. Negotiators Closing In on a Draft Deal: Brexit Update
U.K. and EU negotiators are closing in on a draft Brexit deal amid optimism there could be a breakthrough before Tuesday end.
U.K. and European Union negotiators are closing in on a draft Brexit deal amid optimism there could be a breakthrough before the end of Tuesday, two EU officials said.
They cautioned talks haven't yet finished, and there could be problems hitting the midnight deadline. But there are clear signs that a legal text is close to being ready.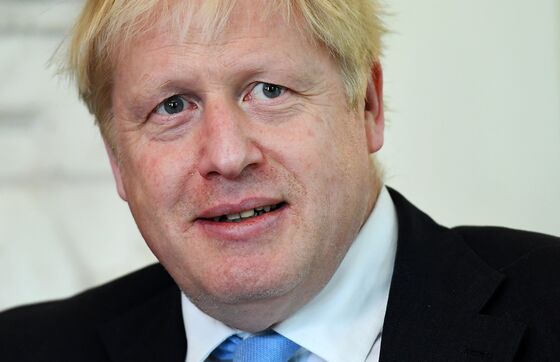 The aim would be to present the draft to national delegations on Wednesday morning, an EU diplomat said. The pound surged, climbing as much as 1.2% to $1.2756, the highest level in nearly four months.
Prime Minister Boris Johnson will still need to secure the agreement of the U.K. Parliament. Negotiators have approached, and even managed to strike, a Brexit deal before -- only to see it shot down in London. Any concession Johnson makes to secure a deal in Brussels risks incurring the opposition of the Democratic Unionist Party, whose support will be vital for any agreement to pass.
All time stamps below are Brussels time (CET).
Splits in Tory Ranks Over Deal Proposal (11:45 p.m.)
In a sign of trouble ahead for Johnson, the Sun reports that two senior members of his Conservative Party, Iain Duncan Smith and Owen Paterson, are unhappy with the compromises the prime minister is said to be making over Northern Ireland. Duncan Smith is a former Tory leader, and Paterson was Northern Ireland Secretary. "When would any other country ever give up part of its territory as part of trade talks?" Paterson told the newspaper in an interview.
The danger for Johnson is that once some Brexit-backers start to oppose the deal, it will be harder for others not to join them.
DUP: 'Gaps Remain' on Proposed Deal (10:15 p.m.)
Johnson spent around 90 minutes this evening speaking to Arlene Foster, leader of his Democratic Unionist Party allies, along with Nigel Dodds, who leads their contingent in Parliament. They issued a brief statement afterward: "We respect the fact negotiations are ongoing therefore cannot give a detailed commentary but it would be fair to indicate gaps remain and further work is required."
The Northern Ireland-Only Backstop (9:45 p.m.)
An EU diplomat, speaking privately, said that the two sides were working on the basis of the old, Northern Ireland-only backstop. Michel Barnier has previously said that the further negotiators move from this off-the-shelf legal text, the longer and more complicated negotiations will be.
The diplomat said there's a chance the two sides won't conclude the talks tonight, but they could still make sufficient progress for a "concept" of a legal text to be presented at the summit. This would not be a fully ready deal, but its main principles would be clearly outlined, according to the official.
In that case, it is possible that the leaders will decide that negotiations can continue after the summit. But some fear that a delay would kill the momentum currently in the talks.
Another Push For a Second Referendum (9:30 p.m.)
The anti-Brexit Liberal Democrats are pushing for any deal to be put back to the public in another referendum. They've put down a motion to go before Parliament on Oct. 22, calling for one. On its own, that vote wouldn't do the job, but it would demonstrate the level of support in Parliament for the idea. "We cannot predict from one day to the next what will happen in Parliament," Tom Brake, one of the MPs behind the move, said. "We need to be ready for all eventualities and to press the people's vote case at every turn."
DUP Cautious About Potential Deal (7:30 p.m.)
Democratic Unionist Party leader Arlene Foster has given a wary reaction to the developments, emphasizing that any deal must not threaten the unity of the U.K. We need "a deal that respects Northern Ireland's constitutional position as per the Belfast Agreement within the United Kingdom and indeed respects the economic integrity of the U.K. single market," she said in an interview with RTE.
Foster suggested the idea of a Northern Ireland-only backstop plan, which has been mooted, won't be acceptable. "I think that things are very far off the mark in terms of all of that," she said.
But Foster said she expected to engage in further discussions with Johnson later on Tuesday and would be working with the government to try to achieve a deal.
Davis: Time to Back Johnson's Deal (7:15 p.m.)
Former Brexit Secretary David Davis has urged his Conservative colleagues to back any deal Johnson can reach. Talking to Sky News, he said his message to the "Spartans" -- the Tory MPs who have so far refused to back any deal, taking their name from ancient Greek warriors who refused to surrender -- was to remember that "the Spartans lost!"
Baker: 'Optimistic' Johnson Will Get 'Tolerable' Deal (7 p.m.)
Steve Baker, chairman of the pro-Brexit European Research Group, and a man who refused to vote for Theresa May's Brexit deal, has left Downing Street after talks on what Johnson is trying to achieve. He sounded like he was minded to support the prime minister, something that raises significantly the chances of a deal passing Parliament. "I'm happy to say it was a very constructive conversation," Baker told reporters, "and I'm optimistic it is possible to reach a tolerable deal which I'll be able to vote for."
EU Envoys To Meet Wednesday Afternoon (6:30 p.m.)
Ambassadors from the 27 remaining EU governments will be briefed by European Commission negotiators at 2 p.m. on Wednesday.
This could be the moment when we find out officially whether Johnson has a deal to take to the summit of leaders on Thursday.
Varadkar: Gaps Remain as Talks Make Progress (5:30 p.m.)
Irish premier Leo Varadkar said Brexit talks have made "progress," and are moving in the right direction, but as of a few hours ago, significant gaps still remain between the EU position and that of the U.K. The key difference remains on plans for customs checks on the island of Ireland.
Speaking to reporters in Dublin, Varadkar said the situation may have developed in the last few hours and he would be briefed this evening on developments.
Negotiators Closing In on Draft Brexit Deal (4:30 p.m.)
A dramatic breakthrough in negotiations could come within hours after a productive day of intensive talks in Brussels so far. The British side submitted revised proposals for a deal which appear to have unlocked progress.
The U.K's plans are shrouded in secrecy but the focus is on Northern Ireland's relationship to the EU's customs union and the degree to which checks on goods crossing the Irish border can be eliminated. That border has been the scene of violence for decades until the late 1990s and both sides are committed to protecting the peace, which border posts could undermine.
Two EU officials suggested that the U.K. had accepted that customs checks would have to take place on goods traveling between Great Britain and Northern Ireland -- in other words between two parts of the U.K. -- rather than at the border between Northern Ireland and the Irish Republic.
That's something that Theresa May ruled out, and Boris Johnson's Northern Irish allies in the Democratic Unionist Party has previously said they cannot support. This means getting a deal on these lines through a vote in Britain's Parliament could be difficult.
Saturday Sitting Will Depend on Talks: Rees-Mogg (3:15 p.m.)
Leader of the House of Commons Jacob Rees-Mogg said it still hasn't been decided if the U.K. Parliament should meet on Saturday, and events at the summit of EU leaders on Thursday and Friday will determine if it does.
"The events that might require a Saturday sitting have not yet reached their fruition," Rees-Mogg told the House of Commons. "It will only happen if we have something, subject to what happens in European Council, to debate on Saturday."
He said Parliament meeting on a Saturday for only the fourth time in 70 years would be necessary to fulfill the terms of the Benn Act, which requires Boris Johnson to write to the EU to request an extension if a Brexit agreement has not been reached by then. Chris Leslie, a Labour MP who backed the legislation, said it does not need Parliament to meet for the law to be obeyed.
Finnish PM Says U.K. Making 'Real Effort' (1:45 p.m.)
Finnish Prime Minister Antti Rinne said an extension to Brexit may come up at the EU leaders' summit at the end of the week and there are grounds to consider it.
Rinne, whose views are significant because his country holds the rotating presidency of the bloc, also said it's possible an extra summit on Brexit will be needed before the end of the month. "It makes sense to try to reach a common view until the last moment," Rinne told reporters in Helsinki.
"For the first time during this process I have a feeling the U.K. is making a real effort," he said. "Britain's actions have shown it is seeking a deal to avoid a hard Brexit."
Johnson, Macron Had 'Constructive' Brexit Call (12:48 p.m.)
Boris Johnson discussed Brexit with French President Emmanuel Macron in a 20 minute phone call, Johnson's spokesman, James Slack, told reporters in London.
"It was constructive. I would say it was a good discussion," Slack said, without giving further details of the discussion.
The U.K. is working hard to reach a deal with the bloc as time runs short before Thursday's summit of EU leaders in Brussels, Slack said.
The Pound Pares Earlier Gains (12:25 p.m.)
After rallying on Barnier's comments that a deal is possible this week, the pound pared some of its gains, as details emerged from the meeting of EU ministers in Luxembourg, in which remaining sticking points were highlighted.
It was still up by 0.3% against the dollar as of 12:20 p.m in Brussels, amid cautious optimism that an accord is within grasp. The whipsaw between positive and skeptical headlines pushed one-week volatility to its highest since July 2016.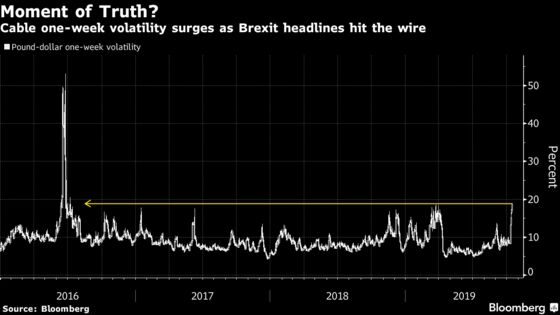 France Says U.K. Made Serious Brexit Proposal (12:14 p.m.)
The French government believes that the U.K. presented a "serious proposal" to exit the EU, though it's too early to say if there will be a deal by the European summit later this week.
The situation regarding Brexit must be clear before the EU leaders meet on Thursday in Brussels, about two weeks prior to the Oct. 31 deadline for the U.K.'s exit from the bloc, a French presidency official said during a briefing with reporters in Paris.
JPMorgan Says Pare Back No-Deal Brexit Protection (12:12 p.m.)
JPMorgan Chase & Co. credit strategists are so confident that the U.K. will avoid crashing out of the EU without a deal this month that they recommend closing Brexit hedges on no-deal exposed borrowers such as Lloyds Banking Group Plc and ITV Plc.

Coveney Says "Today is a Key Day" (12:00 p.m.)
"This isn't the time for optimism or pessimism," Irish Foreign Minister Simon Coveney told reporters in Luxembourg after the meeting with his EU counterparts and Barnier. "The negotiating teams have made progress but it's been slow," he added.
"This is difficult, but it is possible," according to Coveney, who reiterated that EU leaders aren't willing to negotiate on a legal text. Such text must be finalized by negotiating teams.
"Today is a key day," he said. "I don't want to raise expectations, but later on today or this evening, but if there is going to be a positive report that is needed in EU capitals tomorrow in advance of the EU Summit, well clearly, a big step forward needs to happen today."
Barnier's Cautious Optimism (11:35 a.m.)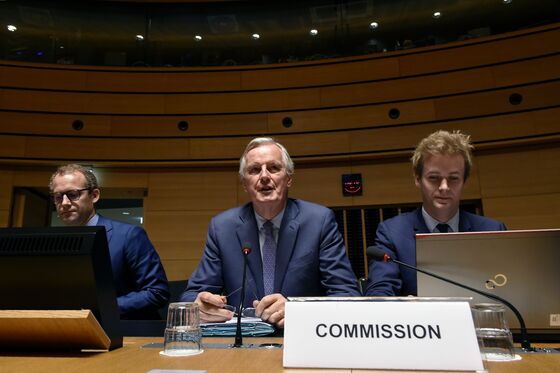 Barnier was cautiously optimistic about the prospect of a Brexit deal during his meeting in Luxembourg with EU ministers, according to a national official who spoke on the condition of anonymity. A breakthrough is possible as soon as today, in which case the matter would be to EU leaders when they meet Oct. 17-18, according to the official.
While the sticking points remain the same, Barnier's optimism reflects U.K. willingness to address EU concerns, said the official. Barnier himself, walking by reporters in a hallway in Luxembourg, told them the search for a Brexit agreement is an "ongoing process."
Barnier Sees Chances of Significant Progress (11:05 a.m.)
Here's a bit more from Barnier's discussion with EU ministers in Luxembourg. "Not all that U.K. has been saying in the last days is totally unacceptable," the chief negotiator said, according to one of the people in the meeting. "They have moved in our direction on key points and that's why I think we still can make significant progress today," he said, according to the official.
Rees-Mogg: Parliament Would Approve Deal (10:45 a.m.)
Jacob Rees-Mogg, the U.K. minister in charge of steering legislation through the House of Commons, said that if Johnson secures a deal with the EU, it could be ratified by Parliament very quickly. "The votes are there," Rees-Mogg told LBC radio.
For any deal to pass, the issue of the Irish border would need to be solved in order to guarantee the support of the Democratic Unionist Party, which has 10 crucial votes in the legislature.
"I don't know what is being discussed in Brussels," Rees-Mogg told LBC. "Basically, I am trusting Boris Johnson because he has been a Brexiteer before the term Brexiteer existed."
Barclay: Deal is "Very Much" Possible (10:45 a.m.)
"Talks are ongoing and we need to give them space," U.K. Brexit Secretary Stephen Barclay told reporters in Luxembourg. He added that a "deal is very much possible."
Merkel Promises to Work to 'Last Minute' (10:40 a.m.)
Chancellor Angela Merkel says Brexit talks are like "squaring the circle," but she will continue to work for a deal until the "last m