Regulator Defends Plan to Let Banks Earn Credit for Stadium Funding
(Bloomberg) -- Comptroller of the Currency Joseph Otting pushed back against criticism that a proposal for overhauling community-focused lending requirements would let banks score points for building or improving professional sports stadiums.
The practice isn't a new one, Otting said, noting that banks have often received such credit in the past, though it's generally been for small projects such as those associated with school sports fields.
"Many of the examples involve community-supporting repairs to local high school and municipal facilities," Otting said Wednesday in remarks prepared for a House Financial Services Committee hearing on plans for updating the Community Reinvestment Act. "Some involve creative projects involving multi-use facilities or facilities that provide access to schools or colleges."
The plan recently released by the Office of the Comptroller of the Currency and the Federal Deposit Insurance Corp. includes no requirement that such lending serve schools or local communities. It just says that banks can get credit for some athletic-facility investments as long as they're located inside so-called opportunity zones and lower-income areas.
The two agencies say they want to modernize rules designed first published in 1977 to ensure lenders don't ignore poor communities. Their December proposal stoked some controversy, including the criticism that banks could get credit toward their obligations for helping the poor by financing stadium improvements in opportunity zones. Certain investments in such areas can also qualify for hefty tax breaks under legislation President Donald Trump signed into law in 2017.
Once heralded as a novel way to help distressed parts areas, opportunity zones are now being criticized as a government boondoggle. While proponents can point to worthwhile projects, the tax breaks are also being used to juice potential investment returns on luxury developments. Several reports have shown that politically connected investors influenced the selection of zones to benefit themselves.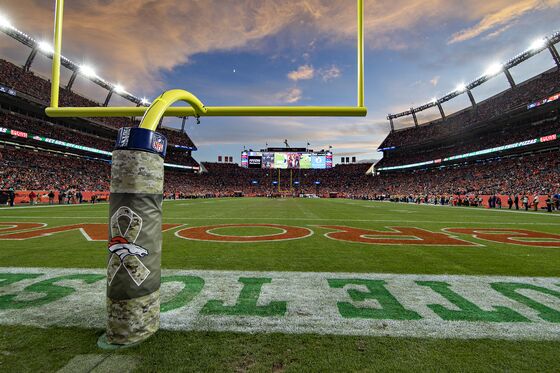 Stadium projects have been a particular point of contention as several teams with wealthy owners play in the zones. They include M&T Bank Stadium in Baltimore, home of the National Football League's Ravens. In Denver, there's Empower Field at Mile High, where the Broncos play. And in Las Vegas, a new stadium is being built for the Raiders.
In November, Senator Ron Wyden introduced legislation that would prevent stadiums and luxury apartments from receiving the tax breaks.
The OCC and FDIC waded into that controversy a few weeks later, proposing that bank-financed stadium improvements may line up with the reinvestment act's goals. Though it was just one of numerous examples on a draft list of ways banks might get credit, it quickly raised eyebrows.
Otting said the criticism illustrates the value of sharing a list of qualifying activity and seeking feedback on whether regulators should make changes.
"The public reaction to including that item among the list of approved activities, however, demonstrates the value of the proposal's transparency," he said. "Under the current approach, such decisions would be made inconsistently and subjectively, but the proposal provides a transparent, illustrative list of examples of qualifying activities that is available for all to review."
Representative Maxine Waters of California, the Financial Services Committee's Democratic chairman, confronted Otting about the stadium credit having "little regard" for whether it will help people in poorer neighborhoods. "You don't think that should be changed at all?" she asked, though she didn't press for an answer."
When they published the list, officials at the FDIC said such scenarios typically stem from their experience in tracking compliance with the law and that they are eager to receive public feedback on what to allow in the final rule.
Meanwhile, the Federal Reserve has so far refused to embrace the OCC and FDIC's proposed overhaul. Fed Chairman Jerome Powell said at a Wednesday news conference that he's sorry his agency couldn't find agreement with the others, despite months of trying. He said he'd asked Governor Lael Brainard to work on modernizing the CRA and supports the ideas she outlined in a recent speech.
To contact the reporters on this story: Jesse Hamilton in Washington at jhamilton33@bloomberg.net;Noah Buhayar in Seattle at nbuhayar@bloomberg.net
To contact the editors responsible for this story: Craig Giammona at cgiammona@bloomberg.net, ;Jesse Westbrook at jwestbrook1@bloomberg.net, David Scheer, Gregory Mott