Bank Stocks Enter Earnings Season With Sky-High Expectations
Bank Stocks Enter Earnings Season With Sky-High Expectations
(Bloomberg) -- U.S. bank stocks are facing sky-high expectations heading into fourth-quarter earnings season as investors look for strong results to add fuel to what has been one of the hottest sectors so far this year.
The KBW Bank Index of large lenders has surged more than 12% to begin 2022, including a record first five trading days amid growing expectations that the Federal Reserve could begin raising interest rates as early as March. Adding to the frenzied buying of bank shares is the anticipation that loan growth, a problem area for lenders over much of the last year, may finally be at an inflection point.
"We believe investors should continue to overweight U.S. banks," Keefe, Bruyette & Woods analysts including Christopher McGratty and David Konrad wrote in a note. "Loan growth is accelerating both sooner and at a faster rate than we initially projected, while expectations around rising rates have been pulled forward," they added.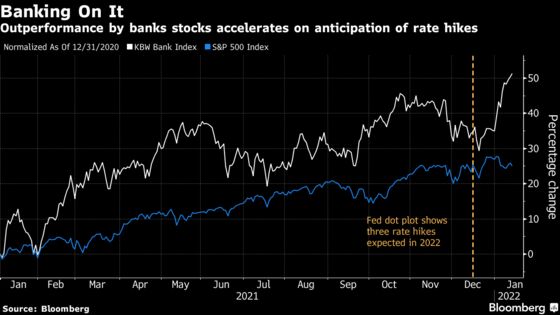 Friday's initial flurry of releases, which includes numbers from JPMorgan Chase & Co., Wells Fargo & Co. and Citigroup Inc. before the opening bell, will offer investors an early look into what to expect from the rest of the sector this quarter. With the KBW Bank Index returning more than 50% since the start of 2021 -- double the S&P 500 Index's gain over the same period -- any signs of weakness could end up sparking a selloff.
"It should be a good quarter, it's just a question of will that be enough here after we've seen some positive stock moves," said Devin Ryan, an analyst at JMP Securities.
The Jamie Dimon-led bank will kick off the fourth quarter earnings season Friday morning with its shares up 6.6% so far this year, on pace for its best month since May. Despite the strong start to 2022, JPMorgan has seen its percentage of buy ratings from analysts fall to the lowest among the big six banks, at about 58%. Over the first two week of the year at least two analysts, including Andrew Lim at Societe Generale and Wolfe Research's Steven Chubak, have downgraded the stock to a hold-equivalent rating.
Wells Fargo will be the second of three big banks to release results before the market opens for trading on Friday morning. Shares of the lender have surged 17% this year, adding to last year's 59% gain, a rally that makes it the best performer among the big six banks. That strong run of gains has all but eaten up the return potential seen by analysts, with the stock currently trading just 2% away from the average 12-month target price.
Rounding out a hectic first morning of earnings will be Citigroup, which has rallied 13% to begin the year, trailing only Wells Fargo's return among the biggest banks. The lender is coming off its second straight annual decline after it fell 2.1% last year -- the only member of the KBW Bank Index to finish in the red during 2021. Still, analysts remain upbeat on the stock, with its 17% return potential over the next year the highest among its big-bank peers.
Goldman will release results Tuesday morning ahead of the opening bell. After seeing its biggest yearly jump since 2009 last year, the stock has lagged its peers to begin 2022, rising just 2.6%. Earlier this month, Bank of America analyst Ebrahim Poonawala downgraded the firm to neutral, saying he prefers shares of Morgan Stanley.
The final day of earnings from the big banks will kick off with Bank of America's premarket release on Wednesday. While analysts are mostly positive on the stock, with 59% giving it a buy rating, it also has the highest share of sell ratings at just over 10%. Earlier this month the stock was cut to hold from buy at Societe Generale, which cited its elevated valuation and concerns about net interest income growth.
Morgan Stanley will wrap up the final day of results from the big six banks on Wednesday morning. Like Goldman Sachs, the bank is off to a slower start versus some of its peer after seeing its best annual performance since 2013 last year. Despite shares trading just below record levels, nearly 68% of analysts still have a buy-equivalent rating on the stock, trailing only Wells Fargo for most among the big banks.