Bank Stocks Are Booming Ahead of Earnings Despite Inflation Fear
Bank Stocks Are Booming Ahead of Earnings Despite Inflation Fear
(Bloomberg) -- Banks stocks are raging into earning season as their upcoming results are expected to show the U.S. economy continuing to roll even in the face of inflation. 
Lenders including JPMorgan Chase & Co., Wells Fargo & Co. and Citigroup Inc. report results Friday.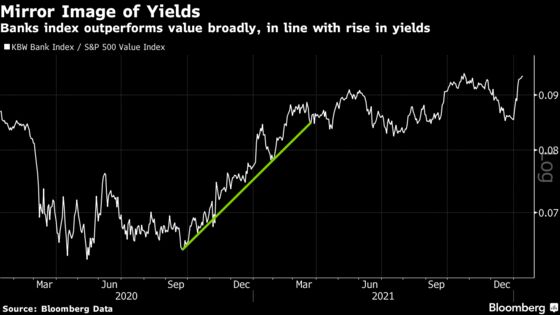 Of course, loan growth is a key part of this. The 25 largest banks posted a 3.5% increase in lending at the end of December compared with a year ago. Intuitively, a booming economy should mean more loans to businesses and individuals, which at higher interest rates should be a boon for banks. Lending also serves as a wider indicator of economic prosperity and recovery. The risk here is what happens when economic growth decelerates. 
Market volatility is also playing a role in banks' strength. In the fourth quarter of 2021, the VIX jumped to a 31 handle and commodities dropped 1.6% after rallying 7% in the prior quarter. That's likely to show up in healthy trading revenue. Wall Street posted record trading profits after the never-before-seen volatility in March 2020 during the onset of the pandemic. Looking at 2021, Goldman Sachs Group Inc., recorded its best commodities trading revenue in a decade. 
From a macro perspective, it's worth watching financials as early bets on a turnaround in value emerge. Value stocks are in the midst of a 15-year downtrend relative to their growth counterparts. But now investors may be positioning for a reversal. It's the same story in cross-asset trading. Investors are selling the dollar, favoring riskier bets like commodities and emerging markets instead. With global central-bank policies in flux, investors are seeing some distortions in trusted correlations.
For example, the S&P 500 financials index, which includes regional banks and insurance companies, tends to be positively correlated with the yield curve between 2- and 10-year Treasuries. A steepening curve signals increasing bets on a strengthening economy, which also usually means thriving financial stocks. But the two have been diverging for the last few weeks. If the old adage holds true that the bond market is a better guide to economic health than the stock market, those bank stocks may not be able to maintain this rally for long.