Bank of Canada Lays Ground for More Rate Hikes on Robust Growth
Bank of Canada Drops Cautious Language as It Holds Rates Steady
(Bloomberg) -- Canada's central bank is paving the way for a new round of rate increases in the second half of the year as the nation's economy runs up against capacity constraints and inflation hovers at the highest in seven years.
Bank of Canada Governor Stephen Poloz left rates on hold for a third straight decision Wednesday, but gave an upbeat assessment of the economy and removed some cautious language. The currency and bond yields popped higher after the statement from Ottawa.
The changes signal policy makers are gaining confidence in the resiliency of the current expansion and the economy's ability to cope with higher borrowing costs, even as household debt levels continue to rise. The Bank of Canada has already raised interest rates three times since the middle of last year, part of an effort to return historically low borrowing costs to more normal levels.
"Governor Poloz didn't pull the trigger today, but the central bank did hint that the time could be nigh for another rate hike in Canada," Royce Mendes, an economist at CIBC World Markets, said in a note to investors.
In its announcement, which kept the benchmark rate unchanged at 1.25 percent, the central bank reiterated the view that higher interest rates will be warranted. However, it dropped an "over time" qualifier that may suggest more urgency in hiking.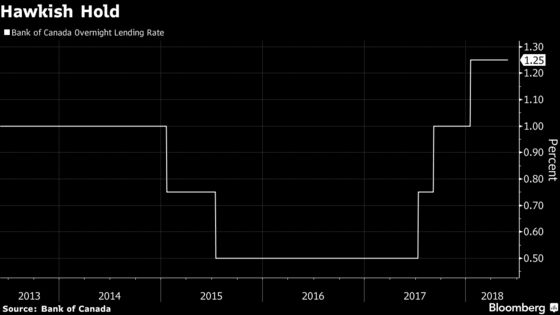 Policy makers also removed language that had appeared in the five most recent statements about remaining cautious on any future policy adjustments, replacing it with a pledge to take a "gradual approach." They dropped another line about the need to keep some "monetary accommodation" in place over time. Also absent was any reference to labor slack.
The Canadian dollar surged 1.3 percent after the decision, and traded at C$1.2843 per U.S. dollar at 11:48 a.m. in Toronto. The spike helped erase the currency's quarter-to-date loss and solidified its position as the best-performing currency among 16 major peers since the end of March, according to Bloomberg data.
Yields on Canadian government bonds spiked, pushing the two-year rate up eight basis points to 1.92 percent, while the five-year rose as much to 2.12 percent, as the market started to price in more monetary tightening.
The odds for an increase at the July 11 meeting are now 79 percent, according to overnight index swaps. The market anticipates two more hikes in total by the end of the year.
"This reinforces our view that as the economy continues to perform well into the middle of the year, the bank will have the confidence it needs to raise its policy interest rate at its next scheduled decision, this July," said Brian DePratto, senior economist at TD Economics.
Since January, Poloz has been in wait-and-see mode due to a number of uncertainties, from inconclusive Nafta negotiations to a slowdown in the housing market. How these risks play out will determine the pace of future hikes and how high rates will eventually go. The central bank estimates its neutral rate -- an ideal setting that keeps the economy neither too hot nor too cold -- is 3 percent.
Poloz must walk a delicate line: moving too soon could inadvertently trigger a downturn, while moving too late could fuel inflation. There are other risks. Keeping borrowing costs low would encourage households to borrow at a time when debt is already at an unprecedented level.
"Overall, developments since April further reinforce Governing Council's view that higher interest rates will be warranted to keep inflation near target," the central bank said. "Governing Council will take a gradual approach to policy adjustments, guided by incoming data."
Wednesday's statement gave a nod to "ongoing uncertainty" in trade policy that's dampening global business investment, while noting recent "stresses" in emerging market economies. At the same time, it said global economic activity remained "broadly on track" compared with expectations.
Record household debt continues to be a key concern, and the statement highlighted the need to "assess the economy's sensitivity to interest rate movements."
Canada's debt overhang has limited the central bank's ability to press ahead with moving rates back to neutral, and previous statements said monetary policy accommodation would continue to be needed over time. That reference has been dropped.
On inflation, the central bank acknowledged prices are accelerating faster than it predicted in April because of gasoline prices, but core measures that exclude energy prices are near target, "consistent with an economy operating close to potential." It reiterated it would disregard the transitory impact of gasoline prices.
The Bank of Canada estimated in April inflation will average 2.3 percent this year, the fastest pace since 2011.
The central bank also said recent economic data reinforces its April outlook for 2 percent growth in the first half of 2018, even though the first quarter appears to be stronger than expected, as exports beat predictions and a pick-up machinery and equipment imports suggest a recovery in investment.
While acknowledging weakness in housing resale activity, the central bank said it expects "solid" labor income growth will trigger a rebound in housing and fuel strong consumption growth.
--With assistance from Erik Hertzberg and Maciej Onoszko.
To contact the reporter on this story: Theophilos Argitis in Ottawa at targitis@bloomberg.net
To contact the editors responsible for this story: Theophilos Argitis at targitis@bloomberg.net, Chris Fournier