Generac Soars After Ida Spurs Demand for Backup Generators
Backup Generator Supplier Soars After Ida Cuts Power to Millions
(Bloomberg) -- One company that stands to profit from a series of natural disasters that have hit the U.S. this year is Generac Holdings Inc., a supplier of backup portable generators. 
Generac shares jumped as much as 4.8% to hit an all-time intraday high of $458.10 on Monday after Hurricane Ida left New Orleans in the dark. The company's stock has advanced 95% this year after a string of weather-related disasters including wildfires, heat waves and a deep freeze caused millions of Americans to be without electricity service.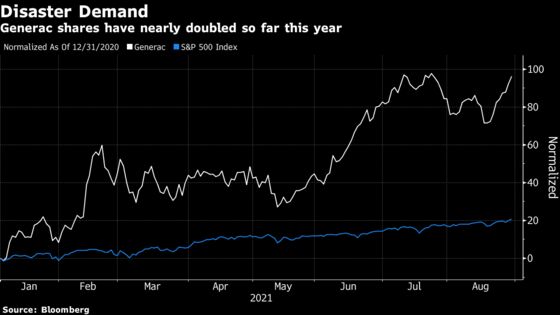 Generac said last month that its sales of home backup generators nearly doubled in the second quarter from the same period last year, spurred by demand in Texas after widespread blackouts walloped the state during a February winter storm. 
Ida provides upside for Generac's backup power business, Piper Sandler analyst Pearce Hammond said in a note to clients. The firm boosted its revenue estimates, along with its price target to $510 from $480. 
Shares closed 1.3% higher at $442.70 in New York, advancing for the ninth straight session.