Australia Subs U-Turn Boosts Rolls-Royce, Torpedoes French
(Bloomberg) -- Australia's about-turn on a submarine order has left the French defense industry licking its wounds while boosting rivals including Rolls-Royce Holdings Plc that are set to profit from a new deal with Britain and the U.S.
French firms reacted with dismay to the effective loss of a contract won half a decade ago, with state-controlled Naval Group saying Thursday in a statement the Australian move was a "major disappointment." Foreign minister Jean-Yves Le Drian, who had helped negotiate the deal, labeled it a stab in the back.
Rolls-Royce shares rose as much as 4.6% after the U.K. Ministry of Defence identified it as likely to benefit from Australia's switch to nuclear-powered submarines from the French diesel vessels. While best known for its jetliner turbines, London-based Rolls has been the sole provider of engines for Britain's fleet of nuclear subs for more than 60 years.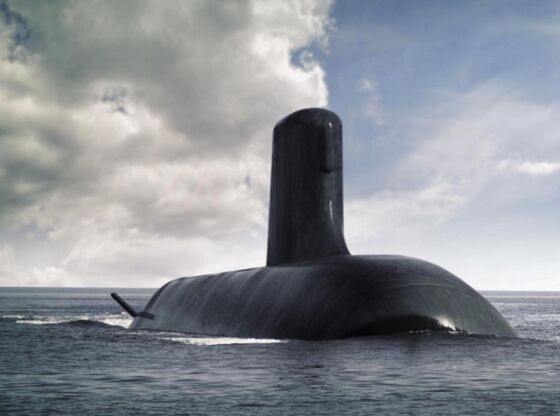 BAE Systems Plc, also named as a likely participant, traded 1.8% higher. Europe's biggest defense contractor builds both hunter-killer submarines like those sought by Australia and nuclear-armed Dreadnought-class vessels at its shipyard in Barrow-in-Furness, England.
French aerospace and defense-electronics specialist Thales SA, which owns 35% of Naval Group, rose as much as 1.7% after saying the deal represented only 2% of pretax earnings last year, while confirming financial targets. Though the contract previously supported design jobs, the subs were to have been built in Australia, so any hit to French employment is likely to be minimal.
"We will make sure to limit the consequences," French Defense Minister Florence Parly told reporters.
The project for 12 submarines had already encountered difficulties, with the cost ballooning to an estimated A$90 billion ($66 billion) from $39 billion in 2016, when France was selected ahead of Japanese and German bids. Britain's Daily Telegraph newspaper reported Thursday the Australian government had also been at odds over the design of the vessels. 
Australia approached the U.K. to do the deal in March, Defence Secretary Ben Wallace said Thursday at the industry conference DSEI in London. While he understood France's disappointment, the agreement would allow Britain to "share our deep expertise, bolster our natural bonds and even deepen partnerships," he said. 
Agency Partners analyst Sash Tusa said "warning signs" had been hanging over Naval Group's management of the project for three years. Even so, U.K. firms have been presented with an unforeseen opportunity and Rolls-Royce's nuclear business in particular may have "a better, broader future."
Nuclear-powered submarines can stay submerged for longer and are harder to detect because of their lower noise profile, an important consideration for Australia as the country seeks to counter China's military expansion in the Indo-Pacific.
The U.K. MoD said the initial scoping phase for the submarine plan will take 18 months, and the design and build process will create hundreds of scientific and engineering roles across the country.
BAE, which has a contract to build a version of its Type 26 frigate in Australia, said it "stands ready" to support discussions on the submarine program.
Rolls-Royce said it's looking forward to participating in the first phase. Rolls is engaged in early engineering activity on a nuclear reactor for a future attack sub that could be relevant to the Australia plan.