Asia Bonds Lose $155 Billion as China Woes Add to Rates Pressure
Asia Bonds Lose $155 Billion as China Woes Add to Rates Pressure
(Bloomberg) -- Investors in Asian dollar debt have lost $155 billion over the past 9 months, pummeled by weakness in China in addition the epic global selloff in fixed income seen around the world as interest rates rise. 
A $1 trillion benchmark of government and corporate notes has plummeted 12.1% from its peak last July, according to a Bloomberg index. That's the biggest-ever drawdown in the gauge based on data stretching back to 2009 and the latest example of pain in global fixed-income markets, after a gauge of euro high-grade notes last week recorded its worst peak-to-trough plunge on record.
The slump continued on Monday, with Asian investment-grade dollar credit spreads pushing out at least 5 basis points, on track for their biggest daily increase in about two weeks, a Bloomberg index shows.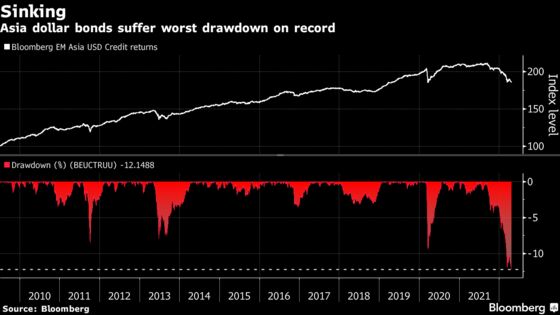 The weakness comes as risk assets took a beating across the board. Authorities in Beijing, a city of more than 20 million people, raced to stop a Covid-19 outbreak, adding to concerns about a further slowdown in Chinese economic momentum. The offshore yuan fell to the lowest since April 2021.  
"Some investors are wondering whether current levels represent attractive entry points" for Asian bonds, Goldman Sachs Group Inc. credit analysts Kenneth Ho and Chakki Ting wrote in note. "To us, macro uncertainties are likely to dominate."
Chinese high-yield dollar bonds dropped as much as 2 cents on the dollar on Monday, according to credit traders, following a second consecutive week of declines in a Bloomberg index. 
Bond markets have taken a beating around the world as investors price in a quicker pace of interest-rate hikes by the Federal Reserve, following comments by Chair Jerome Powell and other officials endorsing a 50 basis-point increase next month. 
Investors turned overweight on Asia credit this month as concerns about outflows diminished, according to a recent report from Bank of America Corp. That suggests the tide could be turning. 
"I would argue that the short-end of investment-grade credit actually has started to look attractive, looking at where the yields are," Neeraj Seth, head of Asia credit at BlackRock Inc., told Bloomberg Television on Monday. 
Elsewhere in credit markets: 
The primary market for dollar bonds in Asia was subdued Monday as investors assess prospects for faster-than-anticipated U.S. rate hikes.
Chengdu Airport Xingcheng Investment Group markeeted  a three-year dollar bond
China has signaled a willingness to allow local governments to increase off-balance sheet debt again after a crackdown in recent years to bring it under control
The default risk of LGFV public bonds is lower over the next 3-6 months compared to last year, with the sector set for "good funding conditions," according to CreditSights
About 13% of rated Japanese companies face more credit risks if the Russia-Ukraine military conflict escalates, with auto-sector firms especially vulnerable, according to Moody's Investors Service
U.S. junk bond investors saddled with losses so far this year can take heart from new Wall Street estimates for a big decline in U.S. offerings.
The investment-grade CDX, a key measure of corporate credit risk, climbed higher Friday as markets and Treasury yields reacted to more hawkish tones from both the Federal Reserve and the European Central Bank
U.S. junk bonds posted losses last week as yields jumped to their highest since mid-2020 amid macro economic risks from rising commodity prices and rapidly tightening monetary policy
For deal updates, click here for the New Issue Monitor
For more, click here for the Credit Daybook Americas
The 14th zero sales day of the year rounded out a muted week in Europe's primary market.
Financials dominated, pricing almost 90% of last week's volume after a trio of Wall Street banks brought post-earnings deals
Embattled real-estate company Adler Group SA said a forensic audit of short-seller allegations against the German landlord identified issues with some deals and accounting methods but found no evidence of systemic fraud
Ukraine has been in talks with the European Union and the U.S. to establish so-called peace bonds for retail investors to help fund war efforts and reconstruction
Get Your
Daily Newsletter
Get market moving news, top news & compelling perspectives
---