Aramco Chemicals Deal Delay Hits Reliance Industries Shares
Reliance Industries Ltd.'s deal to sell a stake in its oil-to-chemicals business to Saudi Aramco is delayed.
Reliance Industries Ltd.'s plan to sell a stake in its oil-to-chemicals business to Saudi Aramco has been delayed, pushing down the Indian conglomerate's shares on the day its chairman announced a $4.5 billion transaction with Google.
"Due to unforeseen circumstances in the energy market and the Covid-19 situation, the deal has not progressed as per the original timeline," Reliance Chairman Mukesh Ambani told shareholders on Wednesday. "Nevertheless, we at Reliance value our over two-decade-long relationship with Saudi Aramco and are committed to a long-term partnership."
For Reliance, the urgency to complete the Aramco deal has eased after it amassed almost $30 billion in recent months through investments in its digital unit and by selling shares to existing stakeholders. Ambani has declared his flagship free of net debt without relying on Aramco, and on Wednesday Asia's richest man said he expects fresh investors in his retail and petrochemical businesses.
Even so shareholders -- who had pushed the stock up to a record on a steady stream of investments this year from Silicon Valley giants -- sold Reliance after Ambani confirmed the Aramco delay. Reliance shares fell 3.8% in Mumbai, the biggest drop since May 14 and the largest decline on the day of the company's annual general meeting since at least 2002.
Ambani had announced last year that Saudi Aramco would pick up a 20% stake in Reliance's refining and petrochemicals business, valuing it at $75 billion, with the deal closed by March 2020. However differences over valuations and structure slowed the progress. The Indian government also asked a court to stop the proposed sale, in an attempt to force Reliance to pay arbitration claims in an unrelated case.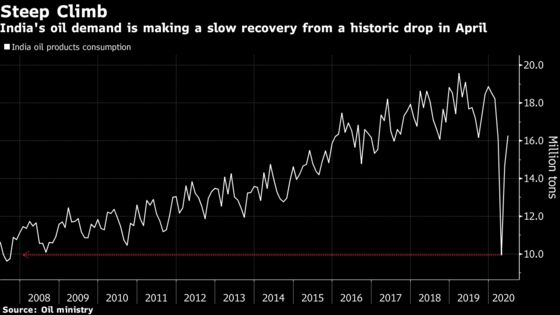 For Saudi Aramco, formally called Saudi Arabian Oil Co., priorities may have changed after it led massive output cuts by all major producers to revive crude prices following a historical crash. India, once considered oil's growth engine, saw demand drop to the lowest in more than a decade in April and it's still about 10% below pre-pandemic levels.
Ambani said Reliance will approach the National Company Law Tribunal to spin off its oil-to-chemicals division, and expects to complete the process by early 2021. He said the firm has been approached by global companies for strategic partnerships in its petrochemical business, though he didn't name any company.
"These potential partnerships will help us build competitive manufacturing capacity at our existing sites," Ambani said, adding that this will help Reliance "serve the deficit Indian market that still depends on large-scale imports of chemicals."
RIL AGM Highlights: Mukesh Ambani Announces Google-Jio Deal, 5G Plans And JioGlass