Coffee Tumbles on 'Surprising' USDA Surplus View, Omicron Fears
(Bloomberg) -- Arabica coffee tumbled to a four-week low, pressured by an improved supply outlook and a broader market selloff.
The U.S. Department of Agriculture on Friday increased its world output estimate for coffee, mostly because of better production in Honduras and Guatemala. The agency also reduced its demand projection slightly, yielding a world surplus of about 2.6 million bags against a small deficit in June. 
March futures fell as much as 5% to $2.231 a pound in New York, the lowest for a most-active contract since mid-November. The price is still up about 75% his year after adverse weather reduced output in top suppliers Brazil and Colombia.  
The USDA report was surprising because until a few months ago some analysts were calling for a much larger deficit, said Hernando de la Roche, senior vice president for StoneX Financial Inc. in Miami. "Consumption data also showed it hasn't been as good either. This changes the game a bit." 
Equities and commodities -- paced by crude oil -- declined as European nations introduced tighter restrictions to fight a surge in infections triggered by the Covid-19 variant, and after U.S. President Joe Biden's spending plan was derailed.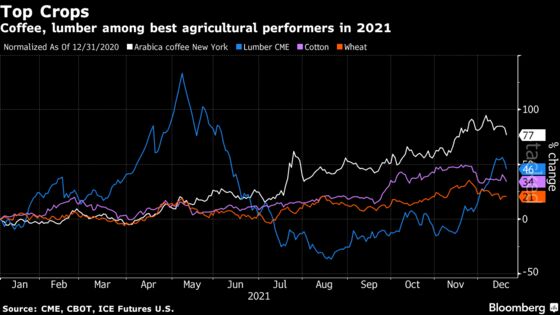 Coffee may remain under pressure ahead of the annual rebalancing by commodity indexes in early January. As a top performer, the beans will see net selling of contracts, analysts at ABN AMRO estimate. Funds have been reducing net bullish position for three weeks, government data showed. 
In Chicago, corn also dropped, while soybeans and wheat recovered from early losses as traders await more clarity on the South American harvest potential and Chinese demand.
Markets are also keeping an eye on government measures aimed at moderating exports and cooling food inflation. Argentina is putting a ceiling on wheat and corn sales, officials said Friday. Russia also set an 8-million ton wheat quota for the latter part of the season and might raise export taxes if prices reach $375 per ton or higher, about $40 above current levels. 
In Brazil, rains and cloudy weather in Mato Grosso, the main soybean growing state, have delayed the application of fungicides and sidelined machines used to dry leaves, according to farmers. That's led producers to push back the harvest, expected to start unusually early around Christmas, to January.
Chicago corn futures fell 0.6% to $5.8975 a bushel, while soybeans gained 0.5% and wheat was 0.4% higher.