Apollo Slips on Virgin Islands Probe of Black's Epstein Ties
Apollo Slips on Virgin Islands Probe of Black's Ties to Epstein
(Bloomberg) -- Apollo Global Management Inc. dropped 3.1% to the lowest since May after reports the U.S. Virgin Islands' attorney general plans to subpoena the firm's billionaire co-founder Leon Black about his ties to the late convicted sex offender Jeffrey Epstein.
That may prove to be a "distraction that could temper net new assets," Citi analyst William Katz wrote in a note on Monday, citing a New York Times article that said the subpoenas will focus on several entities connected to Black and to Apollo. The trouble also "comes at a time in which investors are already questioning organic growth in credit following co-founder Mr. Marc Rowan's recent decision to take a semi sabbatical," along with eyeing "uneven dynamics" in private equity, Katz said.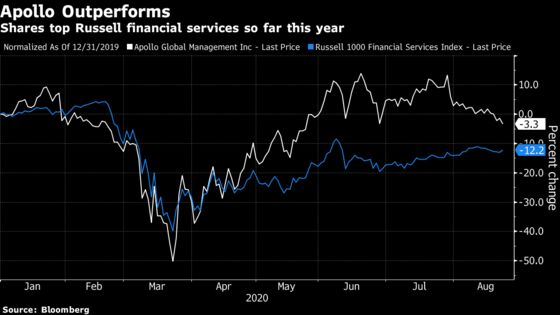 The subpoenas will seek financial statements and tax returns for a number of entities, including ones that manage some of Black's $9 billion wealth.
Katz pointed out that Black has indicated Epstein did no work for Apollo. After his arrest last year, Black assured investors in the firm's funds that his relationship with the convicted sex offender didn't extend to the private equity company. He said that Epstein provided services to his family partnership and entities relating to tax, estate planning and philanthropic advice. Epstein died in jail while facing sex-trafficking charges. His death was ruled a suicide.
"Apollo never did any business with Mr. Epstein at any point in time," a spokesperson for the New York-based private equity firm said in an e-mailed statement.
Apollo's shares have shed 4.5% this year, less than the Russell 1000 Financial Services Index's 12% drop. Katz kept his rating on the shares at neutral.