Andreessen, Klay Thompson Bet on Fantasy Sports App Sleeper
(Bloomberg) -- Sleeper, a fantasy sports startup, has more than quadrupled its valuation to $400 million after raising $40 million in a round led by Andreessen Horowitz.
Also participating were existing backers General Catalyst and Birchmere Ventures, and angel investors including Golden State Warriors star Klay Thompson, through the Thompson Family Foundation, Miami Dolphins cornerback Byron Jones and former NBA star Shane Battier. 
The San Francisco-based startup, which has more than 3 million users, mostly aged between 18 and 35, will spend its fresh funding on product development and hiring in areas including engineering, design, customer support, finance and marketing, Chief Executive Officer Nan Wang said in an interview. It's also building a "wallet" feature to enable payment between users.
"Sleeper historically refers to an underdog in sports that outperforms -- that's who we think we are, a small and mighty team creating games that bring friends, families and co-workers together," said Wang, adding that the company's "scrappy" roots can be traced to a garage in Redwood City, California, in 2015.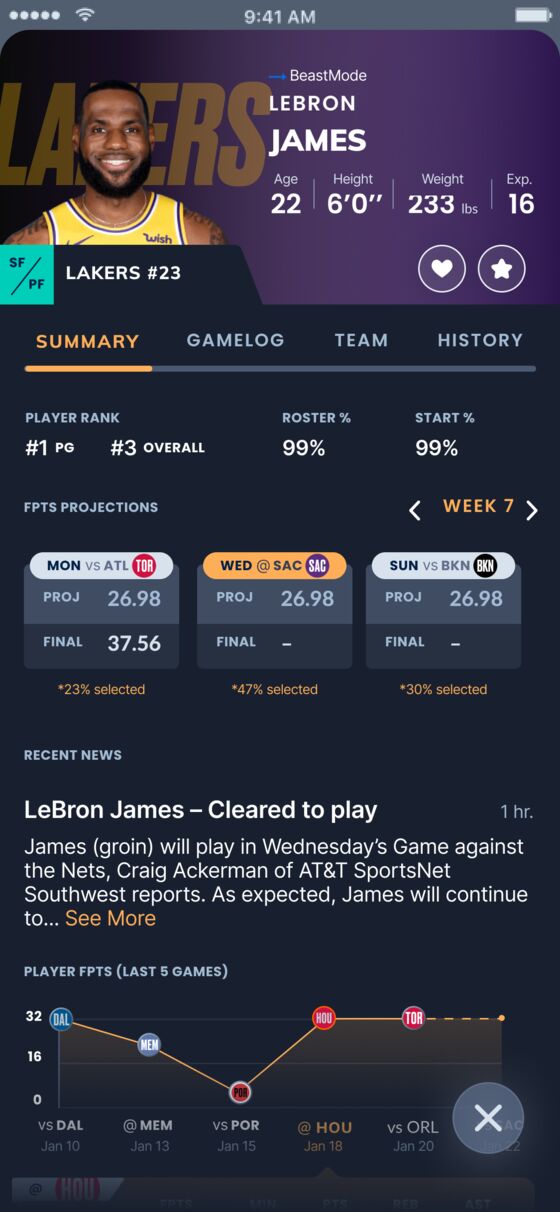 The startup focused on the National Football League and National Basketball Association before branching into e-sports, through League of Legends, during the pandemic. It added college basketball this year, and is exploring developing fantasy games featuring soccer's English Premier League, Major League Baseball and Ultimate Fighting Championship, Wang said.
Sleeper has strong retention figures, Wang said, in part because its in-app chat replaces text and email threads among users, who form leagues in groups of 12 to 14 players. The average user spends 20 to 35 minutes on Sleeper during game day.
"Quitting some of these groups would be like leaving a friendship -- people don't really leave group chats," he said. 
Other prior Sleeper investors include retired basketball star Baron Davis, Thirty Five Ventures co-founders Kevin Durant and Rich Kleiman, Twitch Interactive co-founder Kevin Lin and NerdWallet co-founder Tim Chen.
"Sleeper's multiplayer experience is all about helping sports fans connect with their friends," said Andrew Chen, a general partner at Andreessen Horowitz, which was already an investor in the company. Sleeper's organic growth, retention and engagement is similar to what the venture firm sees in social apps, he added.