Analysts Expect Infosys Sales to Fall After Firm Drops Guidance
(Bloomberg) -- Analysts expect Infosys Ltd.'s dollar revenue to drop in the new fiscal year after the Indian tech outsourcing giant declined to give full-year sales projections in its earnings release Monday.
Nomura Financial Advisory and Securities (India) Pvt. sees a 3% drop in Infosys turnover driven by a decline in technology spending by its clients. Investec Securities has a more aggressive estimate of a 6% fall citing cash conservation by corporations using Infosys' service.
Asia's second largest software exporter reported a 6.1% rise in net income to 43.2 billion rupees ($564 million) for the March quarter. Sales rose 8% from a year ago to 232.7 billion rupees. Its stock fell as much as 3.9%.
The virus poses near-term challenges on demand, supply, pricing and working capital fronts, Sudheer Guntupalli, an analyst at Motilal Oswal Financial Services Ltd., said in a note.
"Given the company's historical track record of adapting to multiple business challenges and technology change cycles, we believe it will be able to navigate through Covid-19 headwinds," Guntupalli wrote.
Technology companies have largely held up better than those in many other industries as analysts expect the outbreak to boost demand for IT services. A gauge of Indian software developers has declined 18% so far this year, compared with a 25% plunge in the benchmark S&P BSE Sensex. Infosys has outperformed even its peers, down 13% year to date.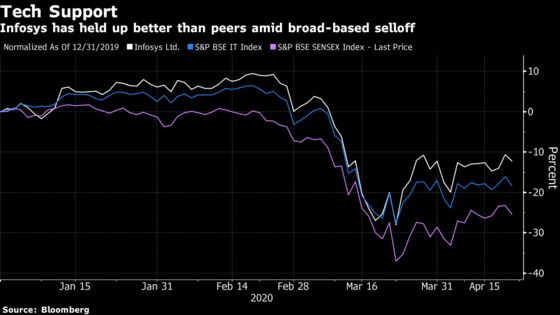 Still, a prolonged lockdown has raised concerns over the ability of IT companies to serve clients with the bulk of its employees now working from home.
Last week, Tata Consultancy Services Ltd. reported a 1% slip in quarterly profit, while smaller rival Wipro Ltd. refrained from giving revenue guidance. India's $181-billion IT services industry builds software and provides services to some of the world's biggest banks and retailers.
Here's a roundup of what analysts are reading into Infosys's results:
Expects a 3% decline in dollar revenue in the new fiscal year as clients' IT budgets are likely to decline 5%-10%.
Growth to normalize by fiscal year ending March 2022, driven by demand for cloud migration services and automation, where company has credible practice.
Delivery disruptions contributed two-thirds of the demand impact from Covid-19 in 4Q; company expects to address some of this in April-June.
Maintains neutral on stock; reduces price target to 710 rupees from 805 rupees
Investec (Nitin Padmanabhan)
Expects a 6% decline in dollar revenue in FY21 followed by 6% growth in FY22.
Assumes a 50% cut in discretionary spending over Q1-Q2, followed by a recovery from Q3.
Clients likely to conserve cash until economy completely reopens, which is still some time away; the worst is yet to come
Retains hold with price target of 650 rupees
Citigroup (Surendra Goyal)
Demand to see near-term challenge; discretionary spending to be pushed out.
Margins to remain under pressure, but company's good balance sheet and cash flow generation are positive.
Well-positioned for merger and acquisition opportunities with cash-rich balance sheet.
Expects faster growth, with steady margins.
Keeps buy, raises price target to 720 rupees from 675 rupees
JM Financial (Pankaj Kapoor)
Reassuring commentary, ability for strong cash generation should keep investors "engaged".
Both Infosys and Tata Consultancy intend to leverage scale to gain market share in current environment.
Expect flat Ebit margin over FY20-22 despite 6% depreciation in rupee.
Strong cash management to support higher stock price.
Maintains buy, reduces price target to 710 rupees from 730 rupees
Kotak Institutional Equities (Kawaljeet Saluja)
Company well-positioned to weather the storm, gain share in recessionary environment.
Digital capabilities, large deal wins through greater flexibility in profitability terms, focused central teams to help drive revenue growth in FY21.
Retaina buy with fair value of 700 rupees