Aluminum Market Is Still Being Rocked by U.S. Sanctions on Rusal
(Bloomberg) -- There's one part of the aluminum market that's still feeling the squeeze of the sanctions on United Co. Rusal.
While the market for commodity-grade metal -- such as the ingots traded on the London Metal Exchange -- has largely returned to normal, the specialized business of semi-finished aluminum, from billets and slab to wire rods, is pricing in severe shortages.
What's accounting for the difference: Rusal was one of the top makers of semi-finished metal, and some manufacturers aren't willing to rely on the Russian company -- even if sanctions are eventually fully lifted.
Metal buyers are "definitely going to be more prepared if it happens again," said Henry Van, an aluminum market analyst at CRU Group.
But it's not an easy switch to make. Semi-finished parts are more complicated and expensive than standard aluminum ingots, and there are fewer suppliers. They also tend to be sold under long-term contracts, meaning changing over will take time.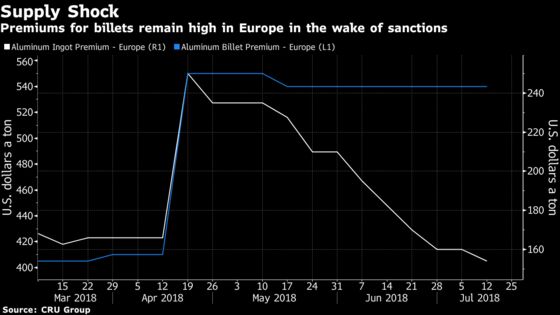 Before the sanctions, Rusal had an order from a large South Korean client to produce alloys for car parts, but the customer dropped it because of uncertainty over the supplies, according to a person familiar with the matter.
All aluminum premiums, representing the all-in price of the metal including delivery and insurance, spiked immediately after the U.S. slapped sanctions on Rusal on April 6. The U.S. later softened its position, leading to a plunge in ingot prices, the commodity-grade benchmark. But premiums for semi-finished products remain sky high.
Rusal switched off its value-added product lines when sanctions hit in April, and then gradually brought the plants back online, according to two people familiar, who asked not to be identified discussing the company.
It may need to reduce output again if sanctions aren't lifted by October, which could reignite turmoil across the aluminum supply chain. Another issue is that Rusal usually negotiates annual supply contracts in September. If sanctions remain, the company will struggle to find customers, said the people.
En+ Group Plc, which owns 48 percent of Rusal, has asked for a temporary reprieve from U.S. sanctions by Aug. 5 as the final phase of its plan for billionaire Oleg Deripaska to relinquish control is "ready for implementation," according to a filing from a lobbyist for the company. Without that relief, lobbyist Mercury LLC said En+ would have to consider a sale to China or nationalization, while the global aluminum market could see a repeat of the turmoil that followed the imposition of the sanctions in April.
Van, the CRU analyst, estimated that output of value-added products next year may be 24 percent below a peak in 2017. The business accounted for almost half of the 4 million tons of aluminum that Rusal made last year.
In Rusal's absence, other producers will try to fill the gap, but it'll take time to change manufacturing processes. But there's lot of incentive: the premiums that Rusal received for value-added products in the fourth quarter were more than three times higher than commodity-grade metal, company filings show.
In May, India's Vedanta Ltd. said it will to invest up to $100 million to boost output of products like billets, alloys and wire rods.
"You're going to see people investing and dusting off old capacity," said Colin Hamilton, managing director for commodities research at BMO Capital Markets Ltd.
To contact the reporters on this story: Mark Burton in London at mburton51@bloomberg.net;Yuliya Fedorinova in Moscow at yfedorinova@bloomberg.net
To contact the editors responsible for this story: Lynn Thomasson at lthomasson@bloomberg.net, Dylan Griffiths