Air France-KLM CEO Bolsters Cash, Prepares Virus Crisis Plan
Air France-KLM CEO Bolsters Cash, Prepares Virus Crisis Plan
Air France-KLM is building up cash reserves and preparing a crisis plan to cut costs in response to a dramatic slump in flight reservations through the peak season and President Donald Trump's ban on trans-Atlantic travel.
The carrier is facing "an unprecedented situation" due to the coronavirus pandemic, Chief Executive Officer Ben Smith told staff Friday in an internal video seen by Bloomberg. Bookings across the network between March and August have fallen sharply compared with last year and flight schedules will be further adapted after the U.S. restrictions take effect, he said.
"Right now we need to secure our future," he said, adding that the company -- in which the French and Dutch states hold stakes -- has asked to defer payments of aeronautical taxes and fees as well as some social charges.
The economic effects of the pandemic have slammed the travel industry as people scrap holiday and business plans and countries place restrictions on those from nations with the most serious outbreaks. Adding to airlines' woes was Trump's announcement this week of travel curbs on the European Union.
"We are in a difficult economic and financial situation that demands the utmost from all of us, exasperated by the new American situation," Smith said, highlighting a 50% drop in the market value of Air France-KLM over the past month.
The share price surged as much as 28% in Paris on Friday after plunging as much as 30% since the start of the week.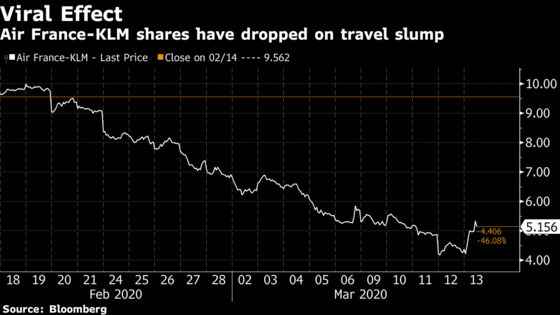 The carrier has drawn down 1.1 billion euros ($1.2 billion) from a revolving credit facility, bringing available liquidity to 5.5 billion euros, according to a statement earlier Friday. The move is aimed at preserving financial flexibility and limiting the impact of the coronavirus epidemic on profitability, it said.
Air France-KLM will get help if needed from the government, Finance Minister Bruno Le Maire said in an interview on RMC, calling the U.S. ban on flights from the EU and not the U.K. an "aberration." He pledged state backing for struggling Renault SA and any company the government holds a stake in, "whatever the cost."
Air France-KLM's French arm warned on Thursday it may have to reduce flights to three U.S. cities due to Trump's travel restrictions. The carrier has already halted flights to China, where the coronavirus pandemic began, and said Air France will cancel 3,600 flights in March, a move that would already reduce its European network by a quarter.
The Franco-Dutch carrier and its partner Delta Air Lines Inc. have a 29% market share on trans-Atlantic routes, according to Bernstein analyst Daniel Roeska, with the North Atlantic representing a main part of European airline profits.
Air France-KLM is in talks with U.S. authorities on whether the French arm can keep flying to Miami, Boston and Houston between March 14 and March 28, it said. Service to Atlanta, Chicago, Detroit, Los Angeles, New York's JFK, San Francisco and Washington will be maintained during the period.
Air France had already suspended flights to Seattle due to lower demand, while a spokeswoman said there would be a further progressive lowering in the numbers. The company said it's working with partners KLM, Delta and Virgin Atlantic Airways Ltd. on a plan to continue service to the U.S. after March 28.
Trump's controls will almost certainly mean more flights scrapped at European carriers and U.S. peers. Discounter Norwegian Air Shuttle ASA on Thursday said it would lay off 50% of staff and suspend thousands of flights as the embattled low-cost, long-haul company fights for its survival.
To contact the reporters on this story: Tara Patel in Paris at tpatel2@bloomberg.net;Ania Nussbaum in Paris at anianussbaum@bloomberg.net
To contact the editors responsible for this story: Anthony Palazzo at apalazzo@bloomberg.net, Frank Connelly, Andrew Noël